As a homeowner, your home improvement to-do list grows despite every item crossed off. 
With a yard, switching up the plants seasonally helps you gauge which succulents, fruit trees, or ground cover makes your yard look the best.  Staying on top of new design options give you new ideas for fun yard upgrades, too. 
In San Diego, you have great weather and sunshine for most of the year. Our outdoor spaces make gatherings and evenings with loved ones fun and comfortable. Whether it's just you or you have kids and pets, a fun, safe yard extends your living area onto your outdoor property. These San Diego landscaping ideas should inspire you to make your backyard a refuge for kids, pets, adults, and friends! 
Native Plants
If you're looking to plant a colorful, thriving garden that attracts butterflies and hummingbirds, consider planting species native to San Diego and Southern California. Native plants thrive in southern California with reasonable maintenance. With native plants, you won't need to water nearly as often, as they are already adapted to San Diego's weather, moisture, and soil. 
Plants native to the San Diego area include:
White sage

California aster

Coyote bush

Jojoba

Torrey pine
Add To Your Yard: Native plants can be used exclusively in a garden bed or can be included throughout the entire yard. They also make great walkways flanks and accents throughout the yard.
Artificial Turf
When considering how to keep your lawn green all year long, turf landscaping can help residential turf lawns look amazing without all the work. 
Turf does have an upfront cost of around $5 to $20 per square foot, but the return on that investment can be seen in just a few years. Synlawn San Diego financing also helps home and business owners turn upfront costs into reasonable, short-term monthly payments. 
With a lifespan of 15 to 20 years, artificial cost easily pays for itself within five years.  the cost of caring for natural grass (seed or sod, fertilizer, pesticide, water, etc.). 
Add To Your Yard: Artificial turf for your home is a low-maintenance option for any size area, whether you want to create a dog run, a full lawn for the kids to play, or a specialized area like a putting green or fitness area.
Water Features
A water feature can bring peaceful sights and sounds of running water to your backyard. Water features can be a simple fountain or bubbling rock. You can even install a pond or river throughout the yard. You can even add a water feature that can act as a water source for your pets when they are playing in the yard. 
Add To Your Yard: Water features can become the center point of the landscape or a subtle feature within the overall landscape. There are so many different styles, so consider how you want it included when looking for the right water feature for your yard.
Hardscape and Patios
Hardscapes can create beautiful, functional spaces that require little maintenance Hardscapes make a great solution for patios, walkways, and outdoor seating areas or kitchens. The many different textures of rock or paver fit into any style of outdoor landscaping. Some are even certified as ADA compliant when installed correctly. Expand your use of outdoor areas by choosing a hardscape that fits your style.
By using commercial turf landscaping at your business, you can provide employee spaces like courtyards and recreation spaces for outdoor breaks.
Add To Your Yard: Whether you are creating a residential or commercial landscape, hardscape can be used to complement the softscape (plants, turf, and other features) by creating patios and paved walkways throughout the space.
Turf Landscaping
in San Diego
If you're ready to start brainstorming artificial turf landscaping ideas, the experts at SYNLawn San Diego are here to help. With experience helping San Diego homeowners and businesses create beautiful turf landscapes, we know how to choose the best turf and incorporate it into your existing or new landscape designs. To get your questions answered and find professional assistance with picking the right turf for your home or business, call 888-507-8873 or fill out this contact form.

On May 24, 2022, state officials approved a proposal to cut water consumption in California by 10 to 20%, which includes a total ban on watering beautiful lawns in subdivision common areas and on all commercial properties. "We are in this unprecedented drought. We need to act like it," said Laurel Firestone a California State…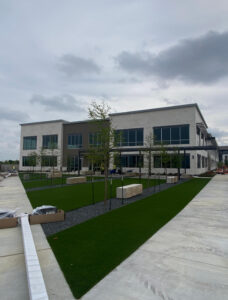 As an apartment complex manager, you know how hard it can be to attract tenants. There are just so many options out there for people to choose from. Sometimes, being pet-friendly is enough to get you noticed. Other times, your pool or in-unit washer and dryer might be the amenity that sets you apart. However,…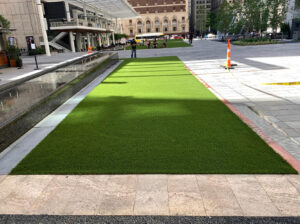 Reasons to Install Office Building Turf The first thing that comes to mind with artificial turf is often a bright green front lawn. But did you know you can install artificial turf in your office building as well? There are so many benefits to having turf in your office or commercial building, that benefit you…