Residential Artificial Grass in San Diego, CA
San Diego artificial grass is becoming a staple in residential landscape design. Homeowners are putting away their lawnmowers and turning off their sprinkler systems thanks to the freedom that SYNLawn synthetic grass provides. San Diego artificial turf is easily the most realistic natural grass solution available on the market today. It is saving customers thousands of gallons of water each year and substantially reducing carbon emissions from gas-powered lawn equipment. At SYNLawn, we provide professional installations that are licensed, insured, and backed by an unmatched limited lifetime warranty.
Professional Grade Artificial Turf Installations
At SYNLawn, we take installation seriously. Our process is more than replacing your landscape with our products. We expertly train our installers to create the perfect surface free of debris and smooth to prevent seams and injuries. They are trained to naturally integrate San Diego synthetic grass over the slopes and undulations of your existing landscape, a feat that can be difficult to achieve with natural grass. In addition, improper installations lead to tripping hazards. This is why we make sure that our installations are done with precision rather than haphazardly placing your turf.
As a result of our expert installations, SYNLawn synthetic turf is compatible with a continuously growing list of applications. We recognize that residents of San Diego have different needs and desires for their landscapes and because of that, we have implemented more than 50 years of research and development of innovations into our synthetic turf to accommodate all of our clients.
SYNLawn synthetic grass is perfect for the following applications:
Poolside
Indoor designs
Gardens, and more!

Environmentally Sustainable San Diego Artificial Grass
Installing artificial turf offers homeowners a highly effective way to save time and money. It is not a secret that natural grass requires an incredible level of dedication if you want to achieve the look you desire. SYNLawn eliminates this need and provides you with year-long brilliance. What makes this possible is our close collaboration with US soy farmers. It is with their help that we can replace large portions of petroleum components from our manufacturing process. Instead, we locally source renewable soybeans and sugar cane to make our faux grass recyclable and available for use on future installations. As a leader in our industry, we feel that it is our responsibility to promote environmental sustainability through the distribution of San Diego synthetic grass.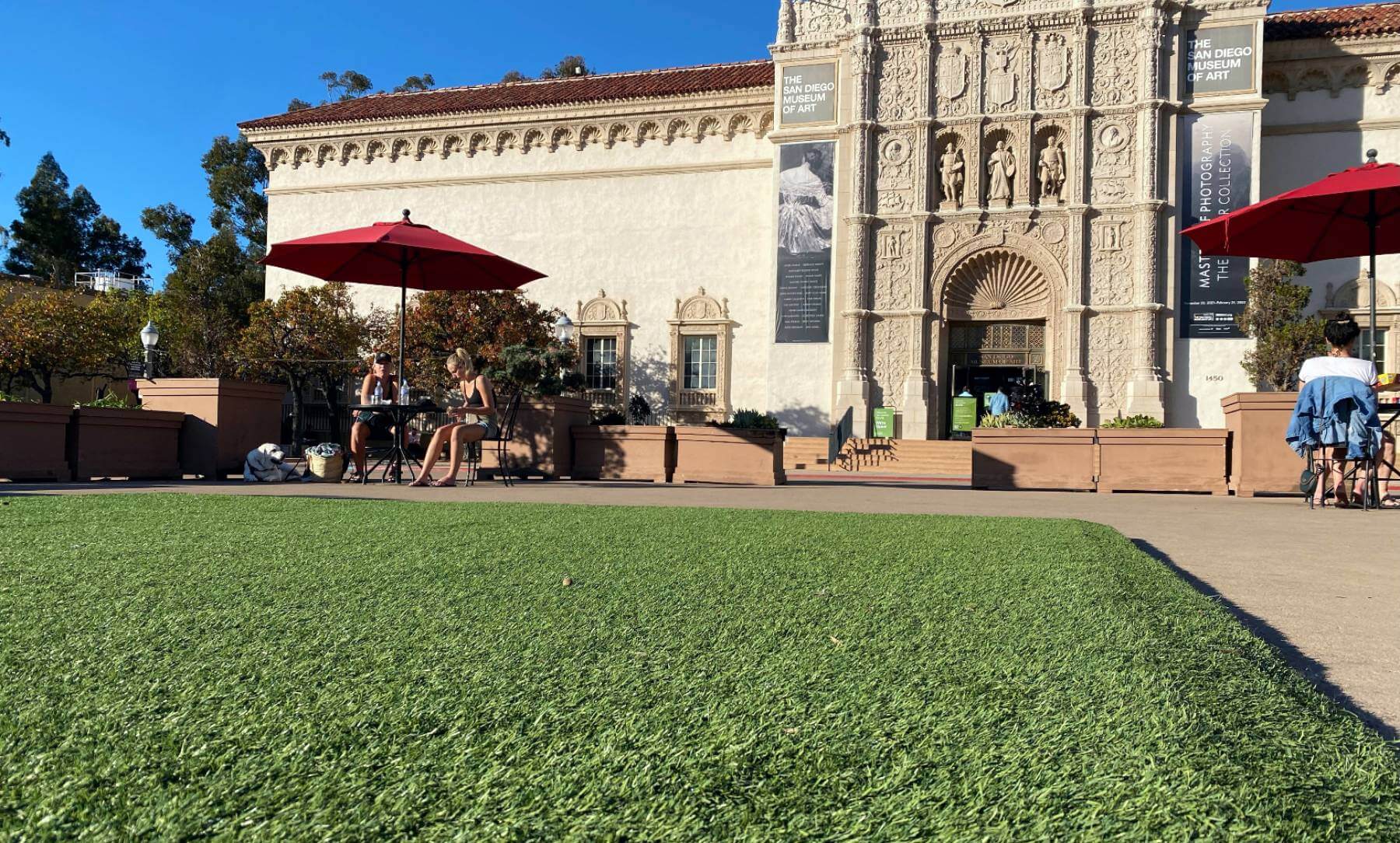 Ensure Your Children's and Pet's Safety
SYNLawn knows that many residents of San Diego have children and pets in their families. They will be glad to know that our turf is designed with them in mind. SYNLawn look's out for their safety by following stringent safety standards and including exclusive technologies and benefits.
Super Yarn™ provides antimicrobial and anti-static components
IPEMA certification meets fall attenuation standards to cushion falls up to 10 feet and protect against minor injuries and abrasions
No seams or bumps to make it difficult for wheelchairs to travel on our surfaces
Prevents airborne respiratory allergies caused by algae and fungal build-up
Finally, while no one hopes to be confronted by fire, accidents can happen. In response, SYNLawn has developed one of the only catalogs of ASTM E-108 Class A fire-rated options. By completing 8 different burn tests products with this prestigious fire rating are proven to help prevent the spread of fire. Furthermore, Class A fire-rated synthetic turf greatly expands an absolutely vital time window for firefighters and first responders to save the day. You can rest assured knowing that if you have to deal with a fire, your lawn will simply blacken and melt rather than serve as a catalyst for disaster.
Schedule a Free Consultation!
Today is the day that you begin your landscape transformation. For more information about San Diego artificial grass for residential installation, contact SYNLawn San Diego to schedule your FREE consultation!
Please fill out all mandatory fields with an asterisk *
Your information will be held confidential with our company.