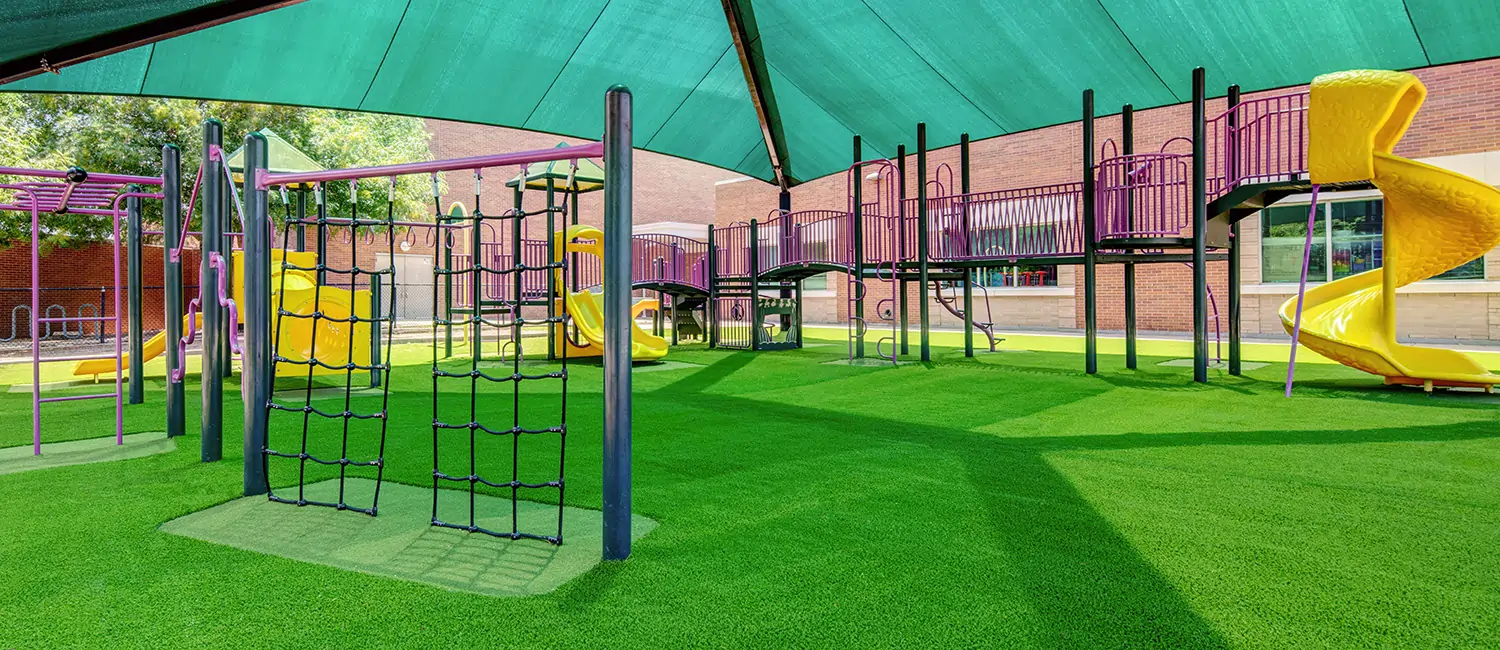 Maintaining green space in San Diego, CA isn't always easy, but playground turf could be a game changer. Manufactured as a more durable and visually appealing alternative to traditional surfaces, playground turf can upgrade any space. With almost endless applications, it's easy to say goodbye to burnt-out lawns, challenging maintenance, and unsightly bare spots.
San Diego, CA Playground Flooring
Between droughts and finding the time and resources to maintain a lawn, San Diego residents know that real grass isn't a picnic. Playground turf with additional padding can create a safer, lower maintenance, and more appealing play area for your family.
With playground turf, you don't have to use up valuable time to mow, spray for bugs and weeds, or remember to turn on the sprinklers. Artificial grass can give you a gorgeous lawn and allow you to spend more time enjoying your yard with your kids.
PLAYGROUND TURF FOR COMMERCIAL PLAYGROUNDS
While playground turf can make residential life easier, it can also reduce costs and create safer commercial spaces throughout San Diego California. As the city of San Diego pushes to create more inclusive community spaces, and businesses search for cost-effective, lower maintenance solutions, playground turf rises to the occasion.
CITY PLAY PARKS
There's something to be said for the colorful shapes surrounding play structures, and it's not just curb appeal. Padding and playground turf pair up to create safer play areas for all families. Playground turf also makes these spaces more accessible for wheelchairs and strollers.
SCHOOLS
School playgrounds get plenty of use, but live grass can be messy, allergy-inducing, and costly to maintain. Artificial turf for schools mean school campuses look clean and tidy while accommodating rough-and-tumble play by kids of all ages.
CHILD CARE CENTERS
For daycares seeking safer, more efficient play surfaces for their charges, playground turf could be the optimal solution. It's durable enough to handle the day-to-day wear and tear and far easier to maintain.
RESTAURANT PLAY AREAS
Restaurant play areas see more than their share of crawling, jumping, and running kids. These establishments need something both durable and cost-effective to keep the structure operational, and playground turf accomplishes this. It's even easy to clean, so employees don't have to spend hours scrubbing messes.
DOG WALK AREAS
Traditionally, commercial artificial grass may have been a pointless option for dog-friendly areas, but not anymore. Modern synthetic grass products are easier to both clean and maintain. Additionally, due to its cooling technology, it won't burn your pup's tender paws!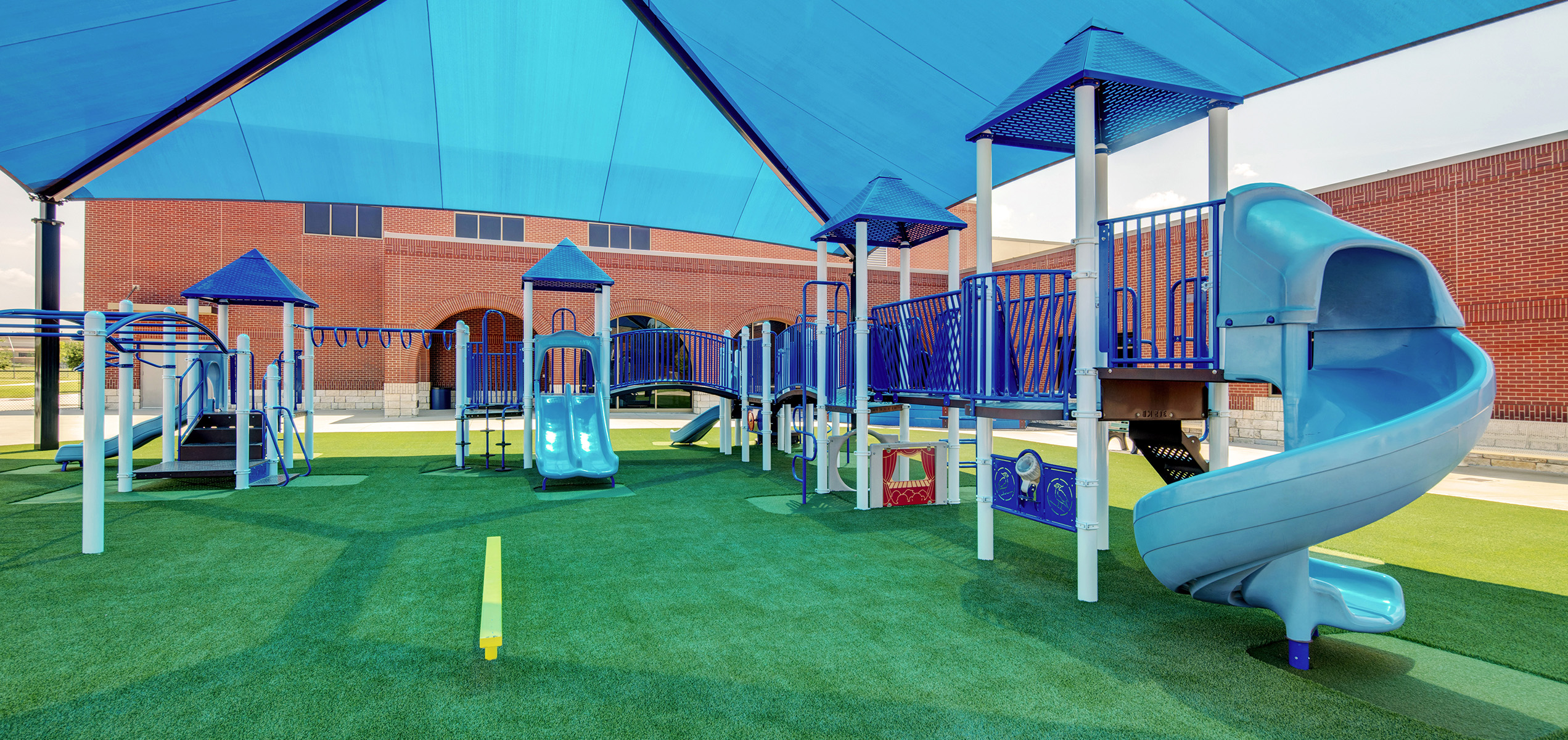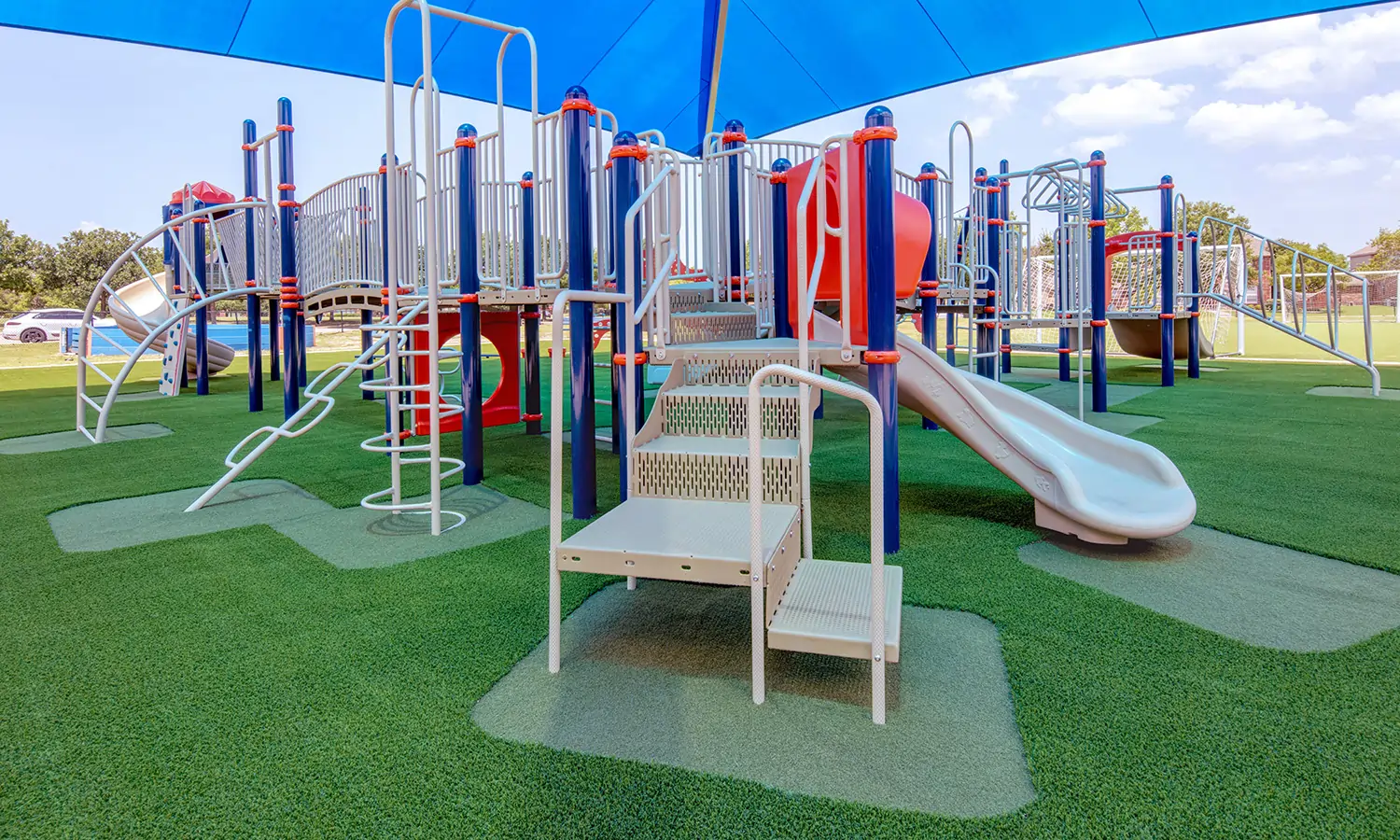 Playground Turf Benefits
Why are so many homeowners, businesses, and municipalities opting for playground turf over traditional surfaces like real grass, mulch, and sand? The lengthy list of benefits, ranging from being very low maintenance, to being eco-friendly, makes playground turf a versatile and useful upgrade.
MADE IN THE USA
We use American-made playground turf, which helps to both create jobs and boost the economy. Every product we install, from faux grass that resembles real grass varieties found across the country to our trademarked SYNPour Poured-in-Place surfaces, is USA-made.
RECYCLABLE
Synthetic grass can be reused in other spaces, meaning you can give it a second life instead of tossing it in the trash. Furthermore, we use common renewable resources and organic infills to create recyclable products, so you don't have to worry about contributing to landfills or harming the environment.
LOW MAINTENANCE
Speaking of not watering or spraying, using fake grass means no weeding or mowing either. Imagine how much time and money you can save on equipment, landscaping supplies, and overall greenspace maintenance!
ENVIRONMENTALLY FRIENDLY
Choosing artificial playground turf is eco-friendly for more than one reason. It saves on water because you don't have to work to keep it green. Not only can you expect lower water bills, but there's also no need to spray for bugs or weeds, meaning the release of fewer chemicals into soil and water supplies.
At SYNLawn, we understand that safety is a primary concern for any play area. When you choose to replace real grass, mulch, or other traditional surfaces with playground turf, you gain some impressive safety features. It's a fantastic way to improve any child's experience!
Cushions a child's fall. When kids fall from play structures onto mulch, cement, or even grass, they can sustain significant injuries, but optimal padding thickness for the max heights of playground equipment can prevent serious injuries from a fall.
Reduces tripping injuries. Since it's level, synthetic playground turf limits tripping hazards that normally occur with bumps, rocks, and naturally uneven surfaces. Also, holes can't be dug into the artificial turf, further reducing fall risk in the future. Preventing children from being able to create holes thereby omitting the risk of stepping into one while playing
Lessens the impact of a tumble. Kids can trip over anything, including their own feet, but between the proper padding and natural softness, artificial grass lessens the impact of those inevitable tumbles. You can't prevent the occasional skid or collision, but you can cushion the landing with playground turf.
Have you ever avoided the playground on a hot day because you knew the blacktop would be scorching? Playground turf remains cool, even in direct sun.
Playground turf doesn't have weeds or collect pollen, so it can mean significant relief for allergy sufferers.
You don't have to use insecticides on synthetic grass for it to be bug-free. Choosing artificial playground turf means eradicating the things that draw those pesky nibblers in the first place. How nice would it be to have summer evenings without bug zappers, insect repellent sprays, or citronella candles to light?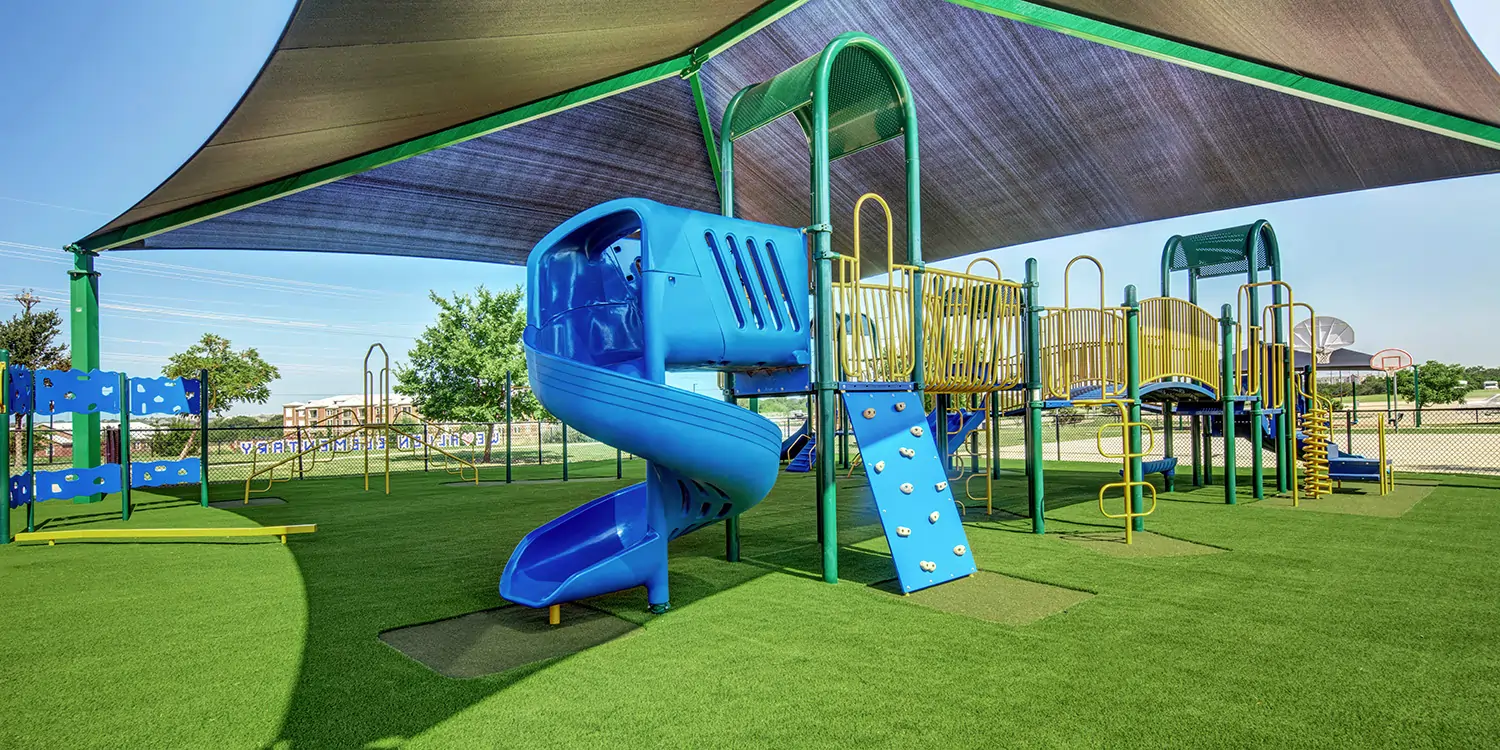 pRODUCTS
Browse our incredible selection of high-quality products to find the right synthetic turf for your needs.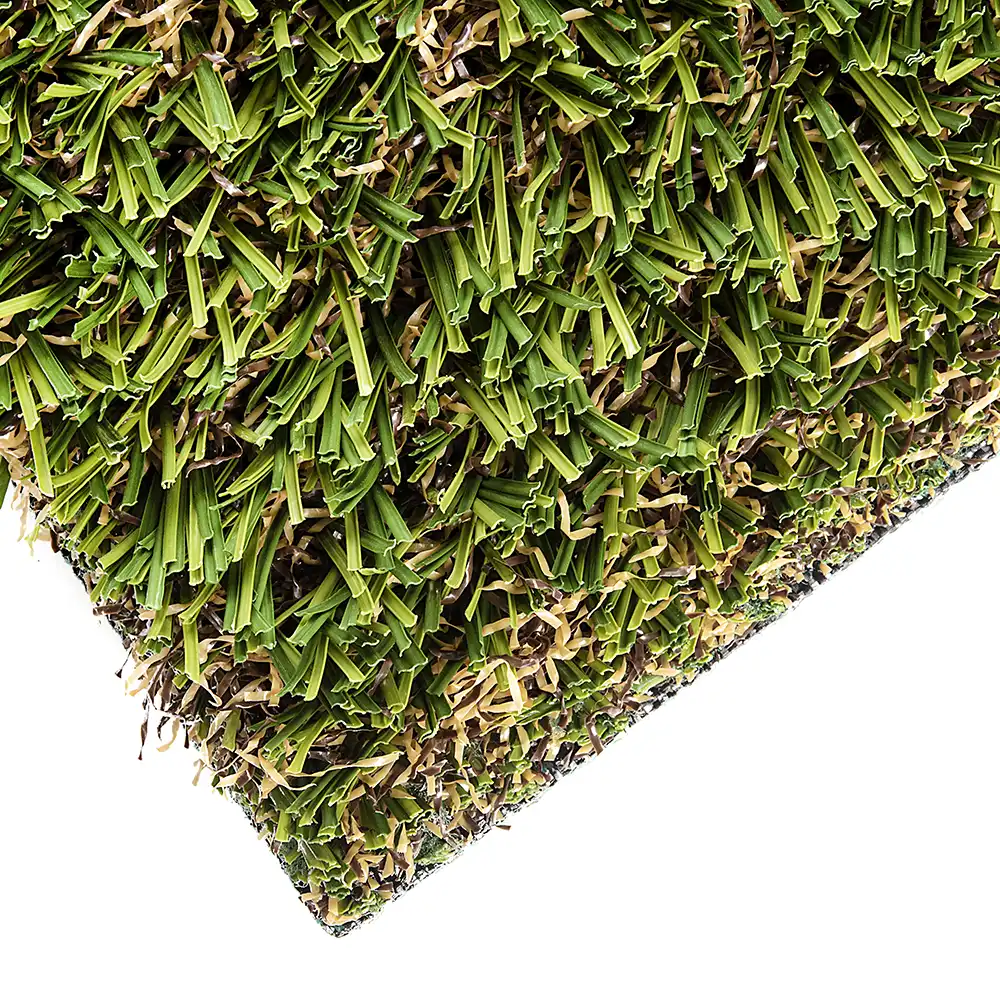 SYNFescue 80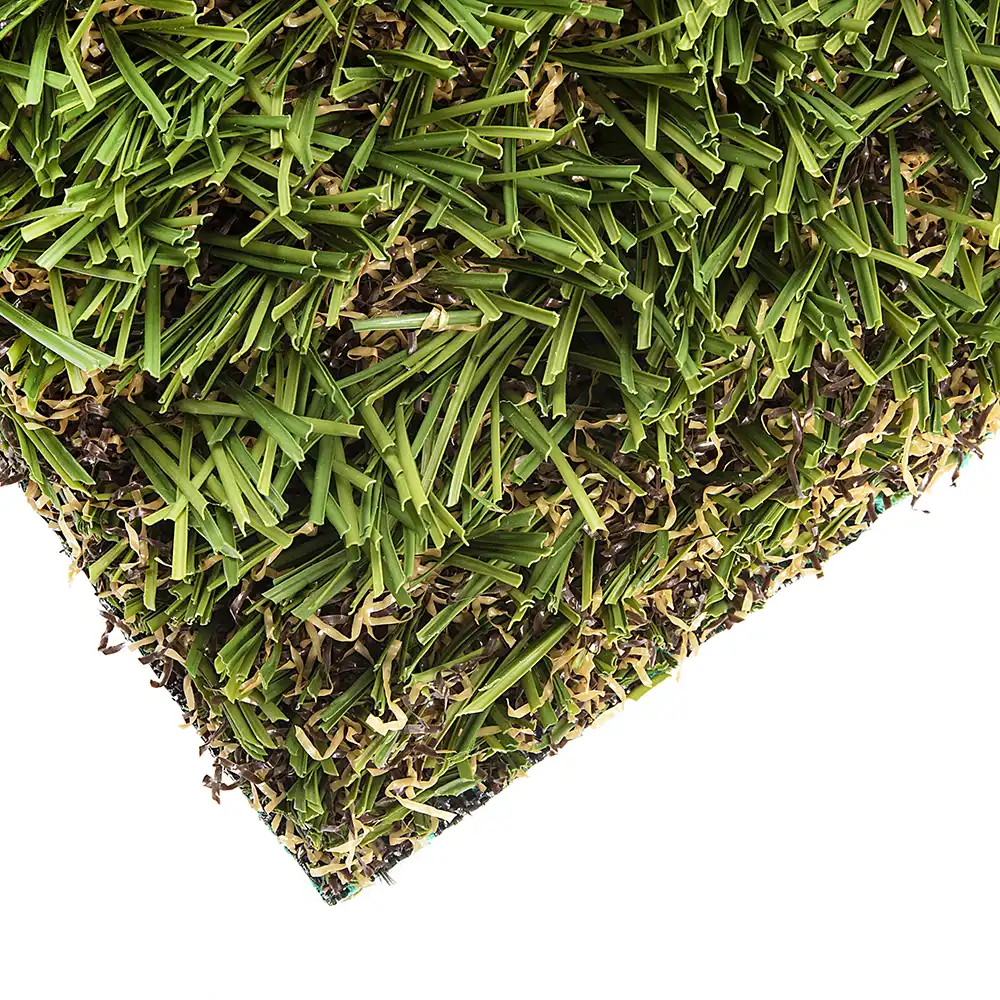 SYNFescue 70
SYNFescue 60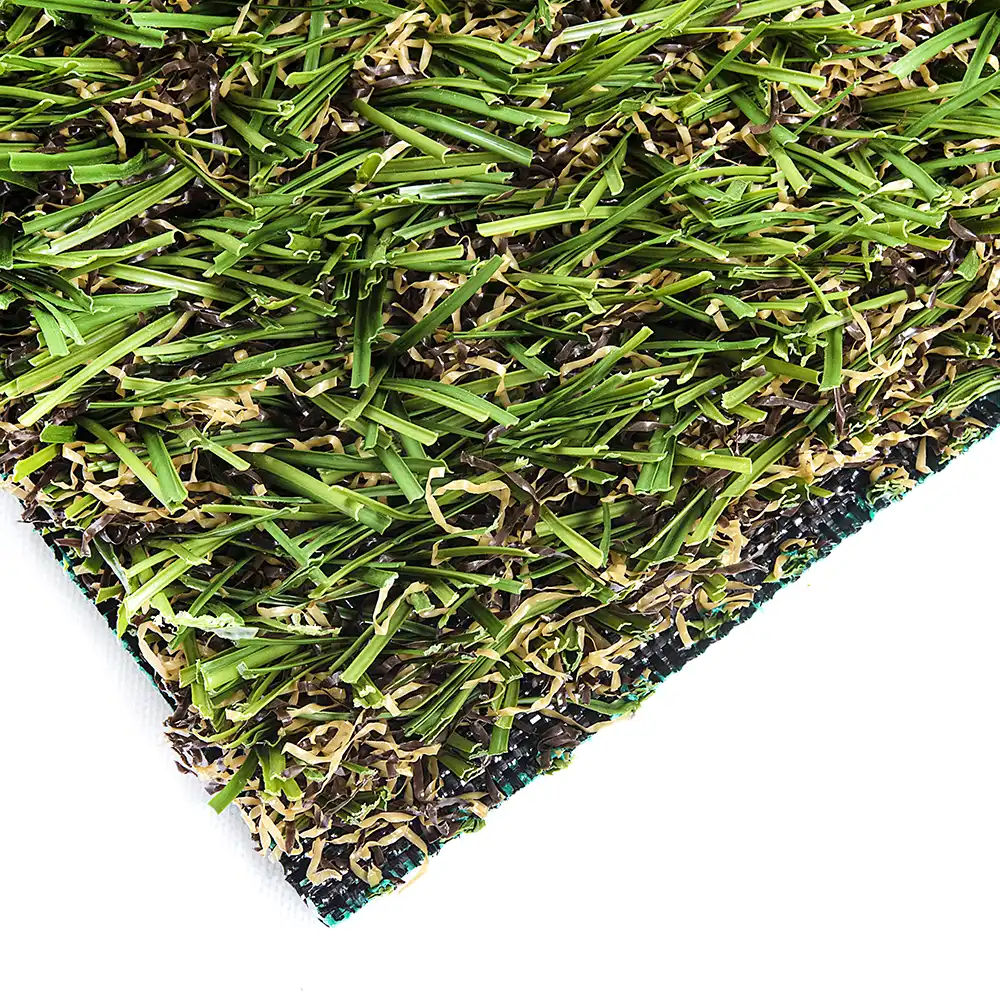 SYNFescue 50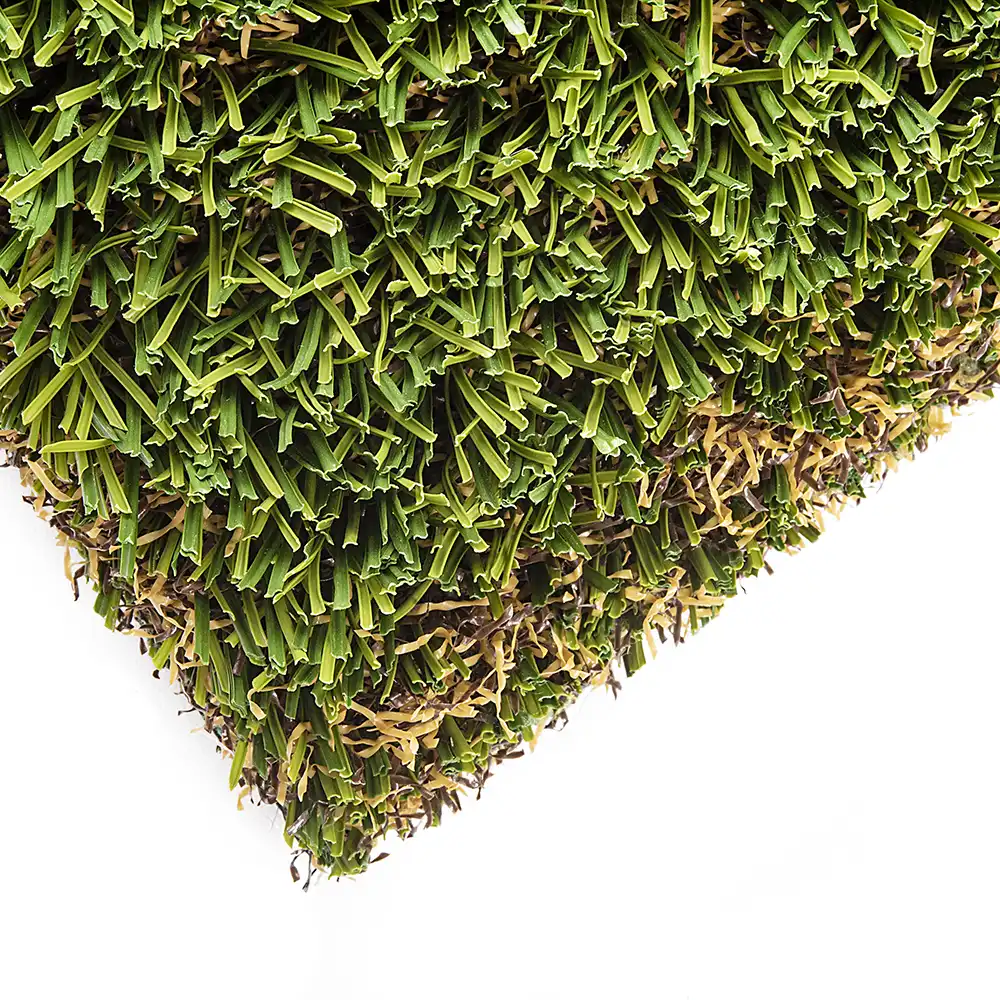 SYNFescue 100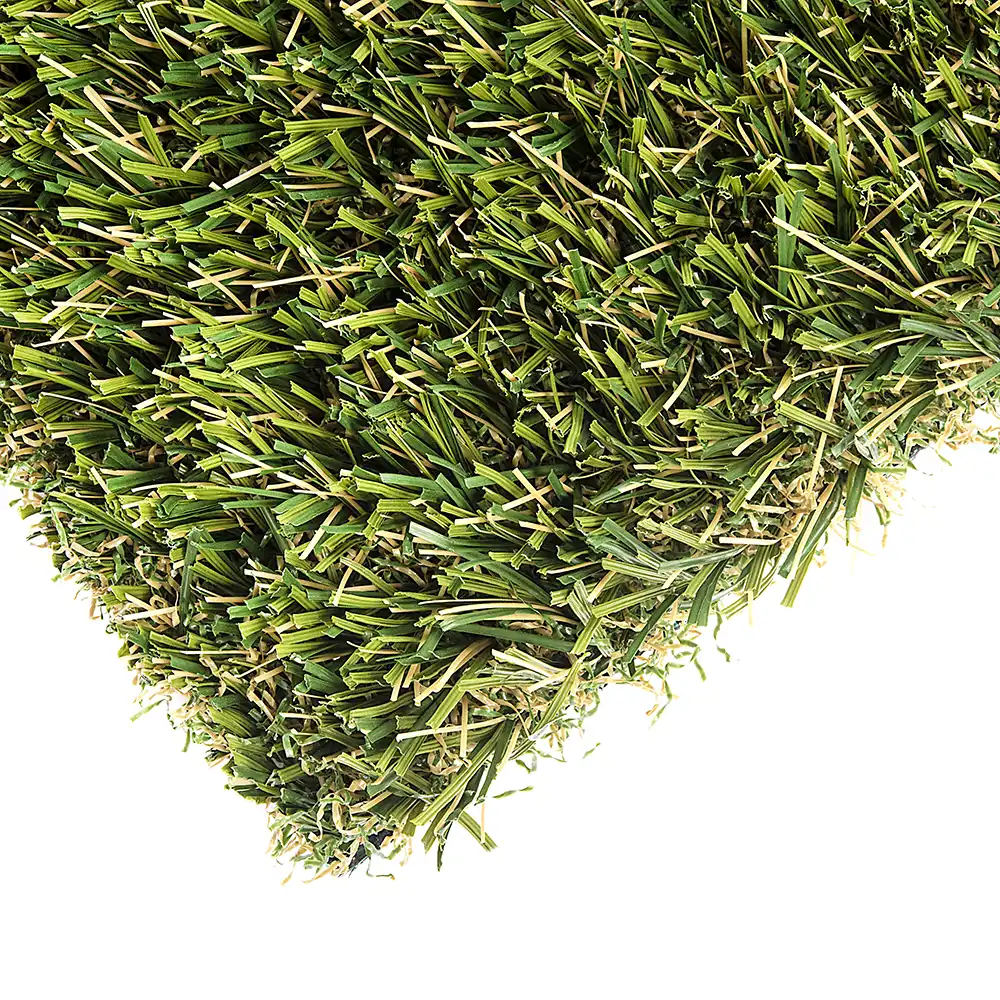 SYNBlue 745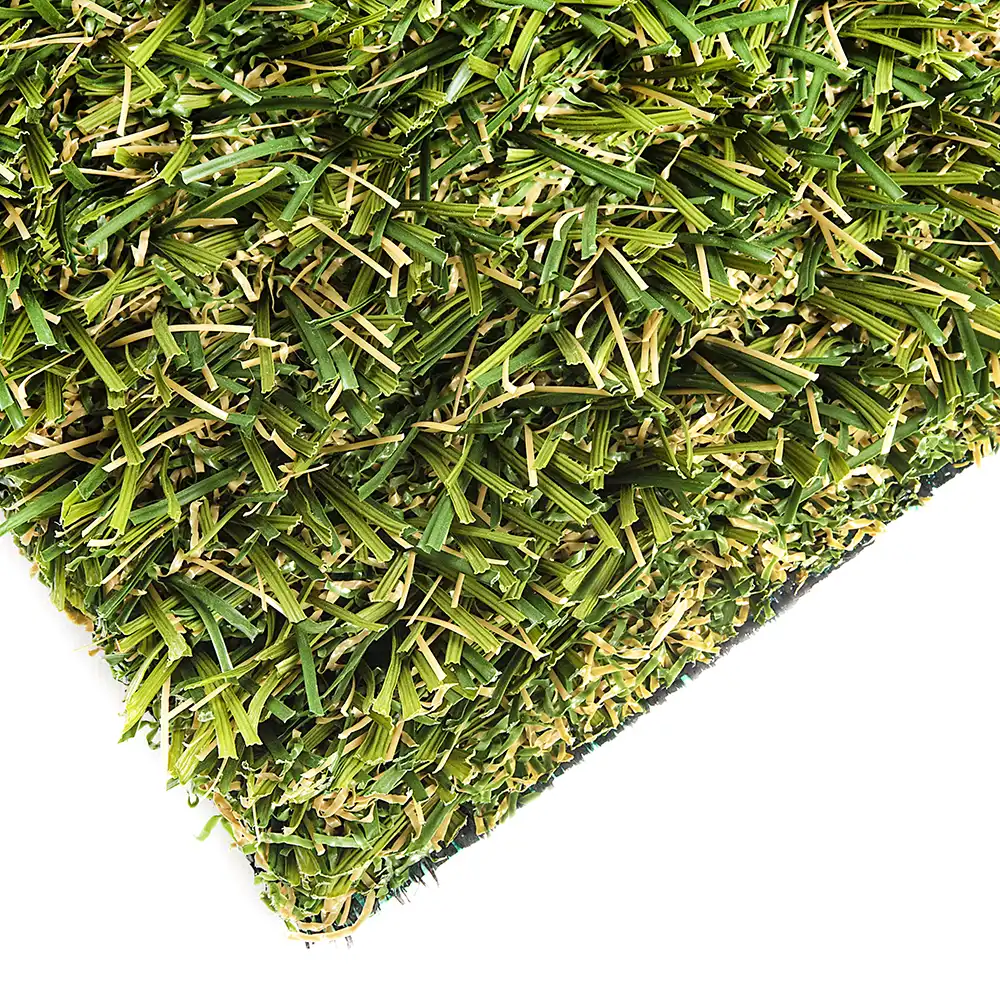 SYNBlue 545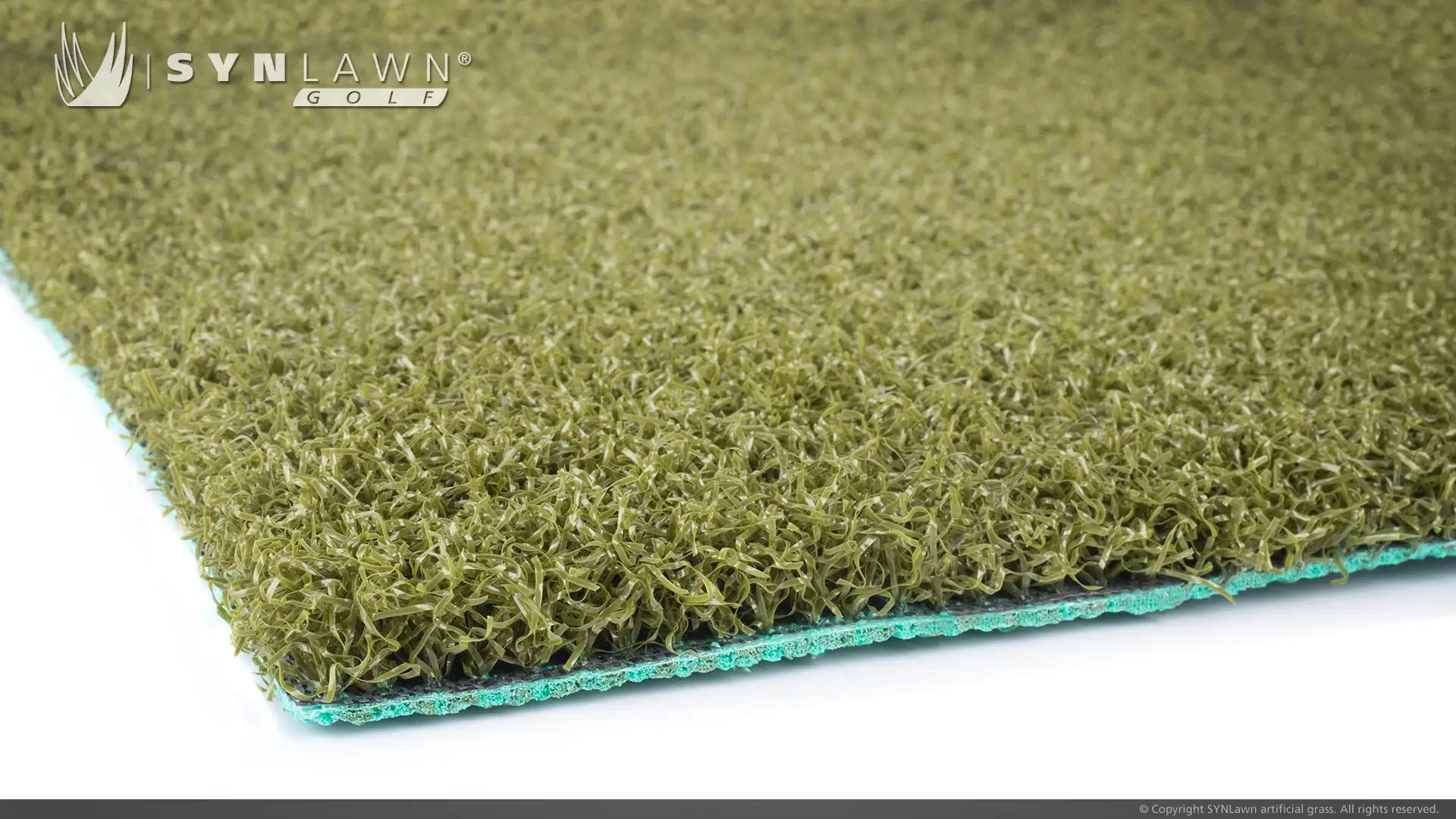 Classic Putt
View All Artificial Grass Products