Backyard putting greens are becoming prominent in San Diego. The city is a celebrated golf destination, causing the desire for residential golf greens to rise significantly. Backyard synthetic golf turf is easy to maintain and is environmentally friendly. Customers rely on SYNLawn San Diego for high-quality manufacturing and installation for the best backyard putting greens on the market.
SYNLawn has built a strong reputation as a leading manufacturer and installer of artificial golf greens for residential and commercial use. We have proudly completed over 200,000 high-end installations in the last four decades, and our turf has received critical acclaim for its low maintenance, magnificent beauty, and eco-friendliness.
WHY YOU SHOULD INSTALL A BACKYARD PUTTING GREENS
There has been a renewed interest in installing backyard putting greens in San Diego. Below are a few reasons why this trend is likely to continue:
Golfers enjoy spending time on the course honing their skills. This includes making time to commute to nearby golf courses, preparing for the game, and so on. Installing backyard putting greens is the most effective option to avoid long commutes to local golf facilities in outrageous California traffic.
While local golf clubs and courses are an ideal place to practice, they have restrictions. Firstly, they are only open during business hours. Once the sun sets, the golfers must pack up and leave. Secondly, they may not be open every day. Many golf courses dedicate a day for maintenance, restocking, and grounds work. Additionally, many do not open on major public holidays.
Installing your own putting greens allows you to play and practice at any time, and even on holidays with your family. This is priceless when it comes to developing your golfing skills.
TRANSFORM YOUR PROPERTY'S AESTHETICS
Installing backyard putting green grass is one of the best ways to improve the visual appeal of your property. This can completely alter your lawn from a drab plain-looking turf to an eye-catching masterpiece. Additionally, a synthetic putting green is sure to increase the value of your home should you sell it in the future.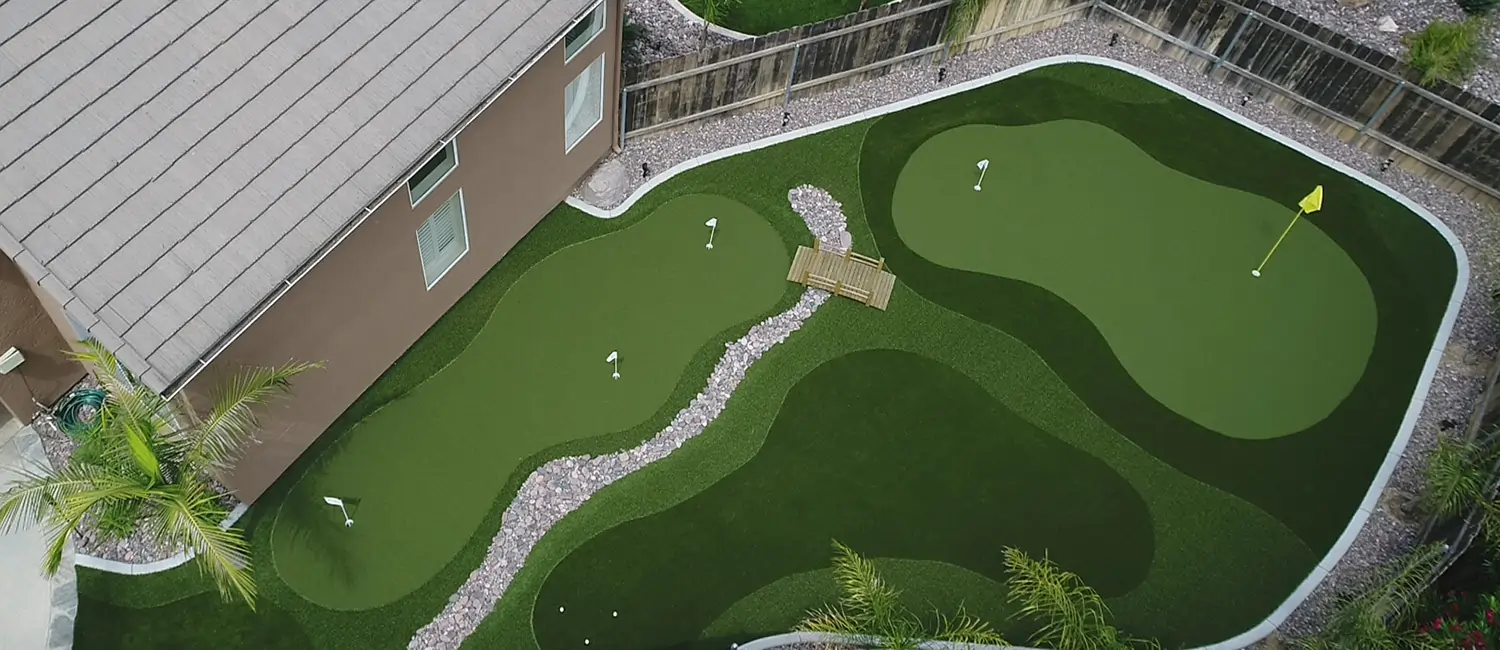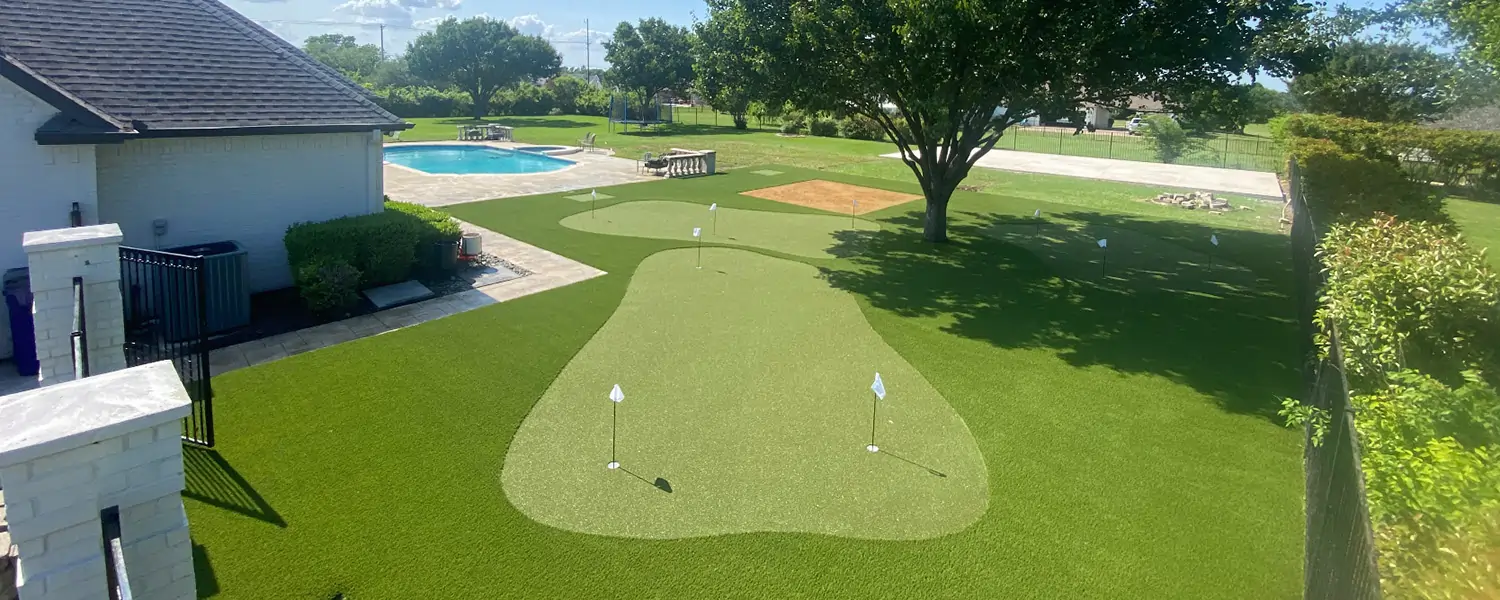 BENEFITS OF INSTALLING OUR BACKYARD PUTTING GREENS
There are numerous benefits associated with installing residential synthetic golf courses. Let's discuss them:
LOW MAINTENANCE
Unlike natural grass golf courses, synthetic turf doesn't require much maintenance to keep it looking amazing. Natural grass needs frequent care such as mowing, pruning, weeding, seeding, and even pesticide application. These tasks are not only time-consuming but also costly.
Synthetic backyard putting green turf looks and feels luxuriously immaculate without the time-consuming maintenance that natural grass requires.
CONSERVE WATER
Water conservation is a pressing concern no matter where you live. According to research undertaken by both the EPA and the government, lawn care consumes more than 60% of all water usage at residential properties. For local officials, these statistics are troubling for both the economy and the environment.
Installing a backyard putting green is one of the best ways to save water. Except for the occasional cleaning of the blades with a water hose to eliminate dirt, the turf retains its brilliance all year long with little to no watering.
ECO-FRIENDLY
Environmental experts have determined that the majority of lawn-care products are detrimental to the environment. Long after being used, traces of these compounds have turned up in soil samples, flora, food, and even water reservoirs. Additionally, the equipment uses fossil fuels like gasoline and diesel, whose carbon emissions have been linked to environmental damage.
On the other hand, synthetic turf putting greens do not need to be maintained with chemicals or lawn equipment. This has a significant positive impact on the ecology and the entire ecosystem.