In buying their homes, San Diegans make the biggest investment of their lives. 
Unlike a share of stock or piece of art, however, this investment can be improved through the homeowner's efforts. Updating and renovating their homes is a big part of home enjoyment, but not all upgrades provide a solid return when it comes time to sell. In most cases, artificial turf does add value to the property. 
A home appraiser will tell you that a well-landscaped and cared for yard can increase home value by somewhere between 10 and 15 percent. Artificial turf makes it look like you spend hours caring for your lawn. Precision care outside naturally translates to the same inside.  When installing synthetic grass for residential lawns, homeowners can take some proactive steps to ensure this investment pays off. 
How Artificial Turf Adds Value to Your Home
If you are on the fence about making the investment in artificial turf, evaluating whether it can impact your home value may just sway you toward yes. Potential homebuyers consider artificial turf to be an added value for several reasons.
Reduced maintenance:

Many potential homebuyers see an artificial lawn and think: ah, relaxing weekends ahead! 
Curb appeal:

 Nothing like a lush green lawn to make your yard pop. When potential homebuyers see that the outside is well-maintained, they assume the inside is, too. Artificial turf can last up to 25 years, which means the curb appeal will last for years to come.
Environmentally friendly:

Today's homebuyers are more environmentally-focused than ever, particularly in San Diego. Prospective homebuyers know that half of household water use goes to watering the lawn. They also know artificial turf uses a fraction of the water of a natural grass lawn. You only need to spray to clean it off from time to time. In addition to reduced water, homeowners can leave the harsh fertilizers and pesticides on the Home Depot shelves—a relief to their conscience. This

environmentally-friendly lawn alternative

will appeal to many as they learn about your turf.
Cost Savings:

According to Home Advisors, the average homeowner spends between $100 to $200 per month to maintain their yard. Expenses include: water, gardener, fertilizers, pesticides, new plants, grass seed, and more. Homebuyers know that artificial turf costs amount to just a fraction of what they would spend on a natural grass lawn. 

Unique Artificial Turf Options to Increase Value
A neat and clean lawn, however, is just one of the artificial turf options you have to increase home value. Specialty turf can create a unique environment, making your home a must-have for the right buyer. 
Putting Greens:

If you are a golfer or in an area with a lot of golf courses and golf fans,

synthetic golf turf and putting greens

installed on your property can make it all the more appealing. A practice area in your own yard will give you the opportunity to enjoy a hobby at your home. Putting green turf provides a consistent, even surface where golfers can work on their short game. 
Pet-friendly Turf: With dog beaches and parks galore, San Diego is a haven for dog lovers. Pet-specific turf makes cleaning up pet waste easy, and you can simply rinse it clean as often as needed. Many pet turfs are antimicrobial, so odors don't linger on the turf and make the yard more enjoyable. Because artificial turf works as a pest control option, pets and people can play with reduced concern about fleas, ticks, and spiders. Bugs can't eat artificial grass and they can't reach any natural soil in which to lay eggs and hide. Pests find the artificial lawn inhospitable and quickly leave for another, more welcoming yard.  
No matter what turf option you select, artificial turf is easy to clean and maintain. You don't need to spend hours mowing, watering, weeding, feeding, and spraying the turf like you would with a natural grass lawn. Instead, you can do some light cleaning by spraying the surface, brushing it to restore the appearance of heavily used areas, and spot cleaning when spills happen. This reduced maintenance will take just a fraction of the time — and appeal to many as they learn about your yard. 
A professionally installed artificial turf lawn can add value to your home, whether you are planning to sell tomorrow, in two years, or in ten. Contact the synthetic lawn experts at SYNLawn, who help San Diego homeowners understand how artificial turf adds value to homes. Please fill out the contact form to get started today.

On May 24, 2022, state officials approved a proposal to cut water consumption in California by 10 to 20%, which includes a total ban on watering beautiful lawns in subdivision common areas and on all commercial properties. "We are in this unprecedented drought. We need to act like it," said Laurel Firestone a California State…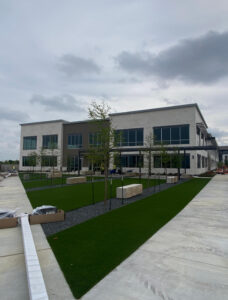 As an apartment complex manager, you know how hard it can be to attract tenants. There are just so many options out there for people to choose from. Sometimes, being pet-friendly is enough to get you noticed. Other times, your pool or in-unit washer and dryer might be the amenity that sets you apart. However,…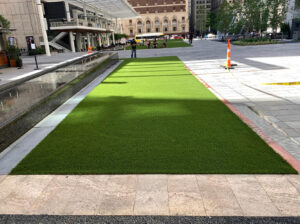 Reasons to Install Office Building Turf The first thing that comes to mind with artificial turf is often a bright green front lawn. But did you know you can install artificial turf in your office building as well? There are so many benefits to having turf in your office or commercial building, that benefit you…