Business owners and property management companies are turning to synthetic grass as a viable cost-saving solution for their commercial properties. Commercial artificial turf is both an economically and environmentally-friendly way to put your company's best foot forward.
From large multi-use facilities to small brick and mortar businesses, artificial grass for commercial lawns and landscapes offers a number of benefits. The low maintenance requirements, high ROI, and increased curb appeal that artificial turf offers make it an ideal landscaping solution for busy commercial property owners. 
If you're interested in elevating your property, read on to learn the three reasons why more business owners are choosing commercial artificial lawns. 
1. Commercial Artificial Turf is Low Maintenance 
As a commercial property owner, you have bigger things to worry about than lawn upkeep. Maintaining a natural lawn can be time-consuming and hiring a professional lawn service can be very expensive depending on the size of your property. 
Commercial artificial turf requires little to no maintenance once it's laid, making it the perfect landscaping solution for busy property owners who want a presentable lawn without the hassle of upkeep. Synthetic turf doesn't need any irrigation, fertilizer, or mowing to stay lush and green, it simply requires a little brushing to plump up the blades. 
Artificial lawns are laid with a sand infill that gives the turf the weight it needs to stay in place while also providing the structure needed to make the filaments look like an organic grass lawn. Foot traffic, weather and day-to-day wear can mat down your filaments, but this can be fixed by using a large natural bristle broom for smaller areas. You may want to invest in a professional turf brush if you have a large property with expansive areas of turf to make maintenance even easier. 
2. Synthetic Grass Improves Curb Appeal 
Aesthetic appeal is important and your commercial property should look as professional as your business. Commercial artificial turf is a great way to achieve a well-groomed landscape that is sure to make a good first impression on clients, employees, and competitors. 
Our artificial turf comes in a variety of materials, colors, textures, and lengths, giving you the freedom to personalize your lawn depending on your commercial property's needs. Because turf is made from synthetic materials, artificial lawns stay green year-round. Additionally, SYNLawn products are resistant to discoloration from UV rays, chlorine, and pet waste, so your investment will stay in good shape for years to come. 
Take a look at our commercial installations to see how artificial turf can enhance the appearance of your property. 

3. Turf Lawns are a Cost-Effective Landscaping Option
Artificial lawns can save property owners hundreds of dollars a year on their water bill, which is often reason enough to persuade people to make the switch from natural to synthetic grass. Large natural lawns require irrigation systems that cost about $3,000 to $4,000 for a typical ¼-acre lot. An irrigation system, coupled with a professional lawn care service and a hefty water bill, can really add up over time. 
Artificial turf is a long-term, cost-effective landscaping investment that will typically pay itself off within a few years' time. With no need for maintenance or irrigation, commercial artificial turf is the obvious choice for economically-efficient lawns. SYNLawn products also come with a Lifetime Warranty backed by us, the manufacturer, so you can have peace of mind in knowing your investment is protected. 
California has even taken it a step further and is now offering water-saving rebates to incentivize people to transition from natural grass to artificial grass landscaping. Through the Turf Replacement Program, property owners can receive $2 or more per square foot for up to 5,000 square feet of lawn converted. Not only do artificial lawns in San Diego have an incredible ROI down the road, but they can also get you immediate cash returns upon installation. 
Visit SoCal Water$mart to apply for a rebate reservation before you begin your landscape project to calculate your estimated rebate amount based on your project area and type.
Upgrade Your Commercial Property
A custom landscape design will boost curb appeal and draw in new business. Our artificial grass installations create a unique and interesting focal point for any Southern California commercial property. 
Commercial artificial turf installation can be used in a number of creative and unique applications including:
Indoor and outdoor putting greens

Dog park or daycare

Playground and park

Sporting fields

Rooftops, patios, and decks

Retail shops

Restaurants
The contractors at SYNLawn San Diego can create one-of-a-kind designs that will help you attract new customers. We offer a free on-site evaluation to determine what system will work best on your commercial property. Contact us today to request your free quote.

On May 24, 2022, state officials approved a proposal to cut water consumption in California by 10 to 20%, which includes a total ban on watering beautiful lawns in subdivision common areas and on all commercial properties. "We are in this unprecedented drought. We need to act like it," said Laurel Firestone a California State…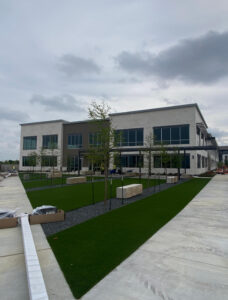 As an apartment complex manager, you know how hard it can be to attract tenants. There are just so many options out there for people to choose from. Sometimes, being pet-friendly is enough to get you noticed. Other times, your pool or in-unit washer and dryer might be the amenity that sets you apart. However,…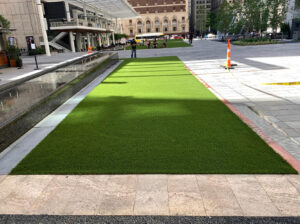 Reasons to Install Office Building Turf The first thing that comes to mind with artificial turf is often a bright green front lawn. But did you know you can install artificial turf in your office building as well? There are so many benefits to having turf in your office or commercial building, that benefit you…