Large lawn spaces are not the only places for artificial turf, nor are they the only way to have a backyard or outdoor space to enjoy your free time. In fact, many suburban and urban dwellers come home to relax in smaller backyards, patios, or balconies. Sometimes those with a patio or deck incorporate landscape features like artificial turf to liven up the space. Read on to find out the benefits of artificial turf for patios and other small spaces.
4 Benefits of Artificial Turf for Your Patio
When looking for ways to design a small outdoor space such as a patio, grass is often not something that comes to mind — even artificial turf. However, there are several key benefits that people find when incorporating artificial turf for patios. 
1. Comfortable surface
As you design your outdoor space, you want it to be comfortable and cozy, encouraging relaxation, rest, and enjoyment. Artificial turf lawns can add a touch of softness to your space. Its below-surface padding makes it soft to walk or lounge on. Turf also keeps the surface's temperature cooler than pavers, wood planks, or concrete. Artificial turf, when installed correctly, has good drainage, so your rooftop or patio space won't be flooded with water every time it rains.
2. Easy to cut to size and space requirements
Whether your patio is a perfect square or a more "organic" shape, professional installers can cut your turf perfectly. Creating a unique shape for your artificial turf ensures it won't be like anything in the neighborhood.   
3. Quick and easy maintenance
It takes just a few steps to ensure your artificial turf lasts for years: rinsing debris and dust off the surface, cleaning up spills and stains with a household cleaner, and brushing the turf to fluff up the bristles. Artificial turf requires less time and money to maintain than nearly every other landscape feature.
4. Aesthetics
Artificial turf won't die. It won't turn brown. It won't thin out or fall victim to pests or disease. Turf will always stay green and fluffy when you take care of it the right way. And because it's so easy to care for, you won't be spending your weekends tending to it instead of relaxing on it. The long term aesthetic appeal can help give your patio a great look that you can enjoy for years. Think you'll miss your natural grass? Go for a vertical garden — pot after pot angling outward all the way up your fence. 
How To Incorporate
Artificial Turf for Patios
Whether you have a patio deck, a balcony, or even a rooftop space you can convert for outdoor living, artificial turf can make a nice addition to your home. Once you've decided that artificial turf could be the missing piece to your space, it's time to consider how exactly you can incorporate artificial turf for rooftops or patios. 
The full patio or deck can be converted to artificial turf if you want to create a lawn look and feel. Place patio furniture or potted plants around the space after installation.
It can be just as fulfilling to use just partial artificial turf in a smaller space. On roofs and patios, a small section (half or less, even) can be designed with artificial turf around planters, pavers, or concrete, creating a multilayered effect. The other space on the rooftop or patio can be filled with furniture, outdoor kitchen features, or raised garden beds. 
Adding artificial turf to small spaces like patios, decks, and rooftops can seem intimidating, but professional synthetic turf experts have the experience to help you visualize what that may look like for your space. In the San Diego area, many homeowners and building owners have made the leap to the convenience and ease of artificial turf for spaces of all sizes. A patio or rooftop can be more comfortable and appealing when it has a bit of green. Fill out this form to connect with SYNLawn San Diego pros, who can help you design and install artificial turf for patios.

On May 24, 2022, state officials approved a proposal to cut water consumption in California by 10 to 20%, which includes a total ban on watering beautiful lawns in subdivision common areas and on all commercial properties. "We are in this unprecedented drought. We need to act like it," said Laurel Firestone a California State…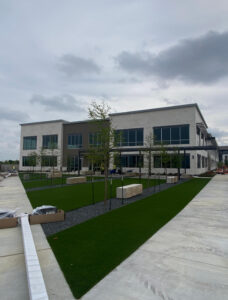 As an apartment complex manager, you know how hard it can be to attract tenants. There are just so many options out there for people to choose from. Sometimes, being pet-friendly is enough to get you noticed. Other times, your pool or in-unit washer and dryer might be the amenity that sets you apart. However,…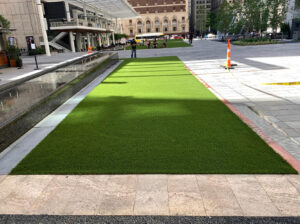 Reasons to Install Office Building Turf The first thing that comes to mind with artificial turf is often a bright green front lawn. But did you know you can install artificial turf in your office building as well? There are so many benefits to having turf in your office or commercial building, that benefit you…