While artificial turf is a well-known solution for residential landscapes, business owners and property managers find it a lovely cost-saver as well. More and more professionals are using commercial turf landscaping in San Diego and other Southern California cities. 
Commercial turf landscaping is environmentally friendly and cost-effective. It can be used in everything from the hotel and hospitality industry to retail and service providers. It provides a welcoming entrance for employees and customers.
Creating Artificial Turf Landscapes for Commercial Properties
Turf can stand alone as the entire landscape, or it can accompany other features like plants, hardscapes, or seating areas. Here are some ideas to create landscapes with commercial turf.
Commercial Business Landscaping
Businesses from retail shops to corporate offices to hotels to residential care facilities find ways to use commercial turf landscaping to create an inviting, welcoming space for visitors and employees alike. Commercial turf is very versatile. With so many options for landscaping, turf requires less maintenance while still maintaining the same lush look over the long term. 
First, commercial turf landscaping can create a lawn in front of the business. Customers do have to spend time outside when patronizing cafes, restaurants, auto repair shops. A small lawn—a splash of nature—can help them feel relaxed. 
Artificial turf doesn't have to be the only feature of the landscape, however. Commercial turf can also complement a patio, hardscape, or stone at business storefronts. Small patches of turf can go with planters, seating areas, or other landscape features.
At corporate offices, commercial turf can be used in courtyards or around the back of the office where employees gather for lunch breaks or outdoor meetings. Giving employees a break from their desks should help relax them, so they can be more productive when they return.
At spas, pools, and hotels or resorts, commercial turf provides the clean, professional look of a manicured lawn. It invites guests to relax or lounge, or simply provides a nice patch of green to look at as they relax. 
Businesses looking to promote or reflect environmental sustainability find adding commercial turf can be a good step. Turf requires less water and chemicals than natural grass and can be a visible reminder of sustainability at the commercial property each day.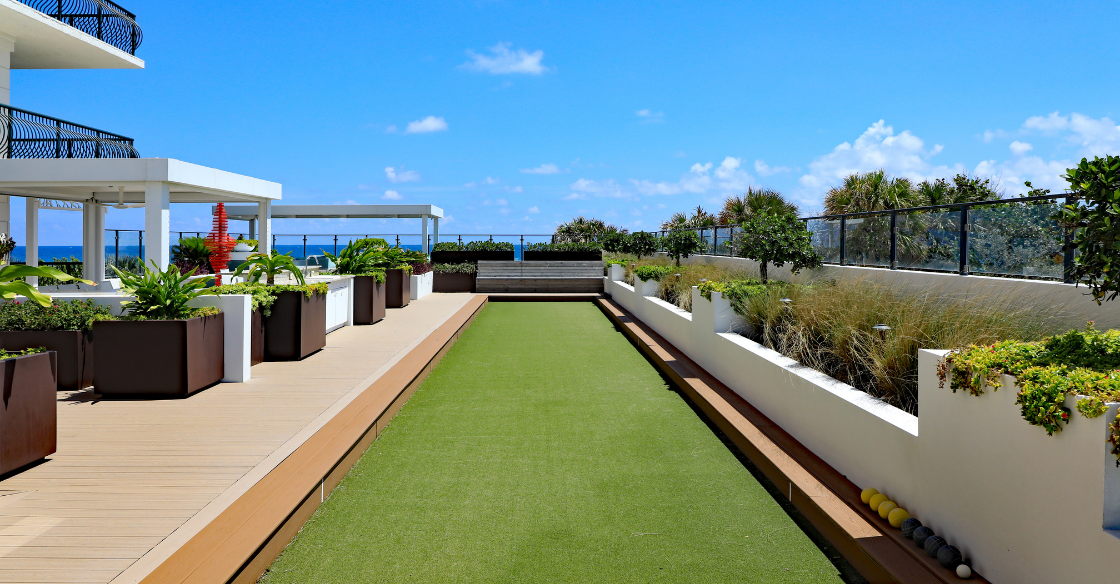 Rooftop Patios and Gardens
Who says the ground is the only place for green space? Many urban offices and apartment buildings offer employees and residents a rooftop escape. Pairing commercial artificial turf with raised bed gardens, a garden wall, or just potted plants provides an escape to nature within the confines of the city. A green space on the roof can add an area with a view to a building's amenities.
Rest assured commercial artificial turf won't hold water that creates mildew and rot. Drainage mechanisms are incorporated into the roof's existing drainage system. Further, by insulating the building, rooftop gardens conserve energy. They also provide a much-needed refuge for wild birds. 
Benefits of
Commercial Turf Landscaping
Not all landscapes create a professional look while maintaining accessibility for all customers, including those with mobility challenges. Artificial turf creates a soft, smooth surface that won't get muddy or puddled during storms, or too hot during the summer season. 
The commercial benefits of artificial turf show just how turf can pay off in the long run with the right commercial turf landscaping design and installation. Some benefits commercial spaces find with turf include: 
Low maintenance

Cost-savings 

Environmentally friendly – no need for chemicals found in pesticide or fertilizer

Reduced water consumption 

Long-lasting green lawn all year long

ADA compliant

IPEMA compliant

Class A or B fire ratings 

Increased durability against foot traffic and harsh weather conditions
When a commercial space is ready to add artificial turf to the entrance, the outdoor break area, or the rooftop, turf professionals can help with design ideas and turf selection. We know what options are best for commercial spaces and can bring your landscape to life. SYNLawn San Diego pros have turf options specific to commercial spaces, so ask your question on our online form to learn more.