When it comes to sports courts at parks, sports complexes, and schools, safety and playability are key. 
Sports fields can be made of a number of surfaces: natural grass, dirt, rubber, and concrete. But when looking for safe and sustainable options, athletic turf can provide a great alternative for parks, schools, and homes. Learn all about SynSport's sports turf options for synthetic playing areas.
Benefits of
Sports Turf
When looking for a versatile artificial sports turf option, SynSport might be just what you need. Athletes, families, students, fitness junkies, and kids all use sports courts at various times, from the local park to the gym to a sports complex specific to a certain sport. It's important to create a welcoming, safe environment where all people can feel like they can play a game or get some exercise in. The two key benefits of synthetic sports turf over other surface types are the playability and sustainability they can bring to the game.
Playability
With SynSport, you can create a space that allows athletes to play the games they love on a turf that looks clean and realistic. Balls, including golf balls and bocce balls, can keep a consistent roll over the surface of the turf. And play doesn't have to stop for maintenance! The playability of SynSport can extend game time even longer because watering, mowing, and seeding don't need to happen to keep the turf looking great.
Sustainability 
Sports turf options, including SynSport, are durable and last for years. You don't need to water the playing area, conserving water and time away from playing the game. You won't need to spend time or money seeding, mowing, fertilizing, and generally caring for the grass, either. Synthetic turf options for sports can complement other sustainability efforts to reduce water consumption and chemical inputs into yards and sports fields.

Sports Turf Options
Golf
If creating a practice putting green area at a city course, a private club, or a backyard, putting green turf can create a smooth rolling space for getting a few minutes of practice putting in. A practice putting green doesn't need a ton of space either, so any size backyard can help golf lovers enjoy their game more often. 
Yard Games
For creating a space for yard games at residential homes or community centers, SynSport and other turf options like golf green turf can give a cleaner, safer space to play. Croquet, bocce ball, corn hole, and even giant Jenga can be played on a turf area, to allow for balls to roll smoothly or blocks to fall more quietly. 
Outdoor Sports
Athletes who enjoy other outdoor sports, like soccer or lacrosse, can also benefit from synthetic turf. Putting green turf is great for many sports, not just golf, because it is non-directional and provides a clean smooth surface for play. 
Sports Courts
Some sports don't need turf to play, but even those can benefit from synthetic playing surfaces. SynCourt is a perforated plastic tile that clicks together to create a sport court surface in any shape, size, and color. You can use this to create basketball courts, tennis courts, and more at home or a local park for neighborhood use. There are five different options for SynCourt, each created with a different sport in mind.
With so many options that combine safety, durability, and customization, sporting facilities in San Diego can create playing fields indoors and outdoors. Learn more about your sports turf options from SYNLawn San Diego, including SynSport, SynCourt, and artificial golf turf for a variety of sports. Create a unique experience for professional and recreational athletes while keeping them safer from injuries. To get started learning about how SYNLawn pros can help you create a custom look and feel for the sports courts you manage or own, call 619-432-4922 or fill out this form today.

On May 24, 2022, state officials approved a proposal to cut water consumption in California by 10 to 20%, which includes a total ban on watering beautiful lawns in subdivision common areas and on all commercial properties. "We are in this unprecedented drought. We need to act like it," said Laurel Firestone a California State…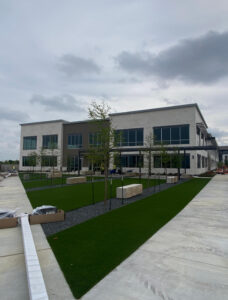 As an apartment complex manager, you know how hard it can be to attract tenants. There are just so many options out there for people to choose from. Sometimes, being pet-friendly is enough to get you noticed. Other times, your pool or in-unit washer and dryer might be the amenity that sets you apart. However,…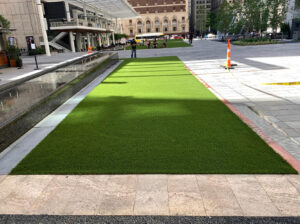 Reasons to Install Office Building Turf The first thing that comes to mind with artificial turf is often a bright green front lawn. But did you know you can install artificial turf in your office building as well? There are so many benefits to having turf in your office or commercial building, that benefit you…