In 2020, people spent more time at home than ever before. Having an outdoor space to get fresh air and sunshine is becoming increasingly important. Whether at home or at work, a patio can create a small outdoor environment to relax, eat a meal, or spend time with others. In sunny San Diego, you can enjoy a patio space most of the year. Here are five reasons why you need a patio for your home or business.
Benefits of a Patio Space
Relaxation
Whether at work or home, a patio offers a space for relaxation. At work, it gives employees or customers a place to relax on a break or while waiting for their purchase or service to be completed. A change of scenery helps both in-office and at-home workers a fresh start. 
Increase Usable Space
A patio increases the usable space of your home or business. It extends the space to enjoy from the indoor area to the outdoors. A patio could be an outdoor dining area, a workout space, or a reading nook. 
Customizable
Patios are incredibly customizable. The ground can be paved with concrete or pavers, or it can include a grassy area with natural or artificial turf. It can have a table and chairs, or more of a sofa-style patio seating. It can include planter beds and potted plants, or a full outdoor kitchen. No matter the purpose, patios can be designed to accommodate your goals. 
Upgradable
A patio is easily upgraded over time. You can start with simple furniture, but as time goes on, you can add other elements and upgrade the space. Add a fire pit a few years down the road. Bring in new furniture or yard game equipment. Swap out the plants or outdoor patio decor for different seasons.
Add Value
A patio adds value to your home. As you look for ways to increase the value, creating more usable outdoor spaces is a great way to do so, especially in San Diego. Installing patio turf or a paved patio can add thousands to the value of your home, and attract potential homebuyers who are interested in spending more time in their future backyard.

How to Decorate a Patio
Whether you have a small or large patio, you can decorate the area to be relaxing and enjoyable. Here are three large or small patio decor ideas you can try in your own patio space.
Install
artificial turf for the patio
With patio turf, you can create an area of the size of your choosing to play yard games or relax. One of the benefits of turf for patios is that it is low-maintenance! You don't need to worry about watering and mowing your lawn with artificial turf, so adding turf to your patio won't add extra work. And with patio turf for your business, you can cut costs on your landscapers your company hires each month to impress potential customers. 
Add lighting
You don't need to just use the patio when the sun is shining. By adding lighting elements, you can extend the use of your patio and enjoy turf for rooftops and patios into the evening hours.
Mix and match patterns and textures
With the texture of synthetic turf for your home and the natural colors in your patio area from pots and planters, continue to bring in new textures or patterns with the patio furniture and pillows. 
If you're ready to investigate commercial lawns for business owners or patio turf for your home's patio, the experts at SYNLawn San Diego are ready to help. To get all of your questions answered and find professional assistance with picking the right turf for your application, call 888-507-TURF or fill out this contact form.

On May 24, 2022, state officials approved a proposal to cut water consumption in California by 10 to 20%, which includes a total ban on watering beautiful lawns in subdivision common areas and on all commercial properties. "We are in this unprecedented drought. We need to act like it," said Laurel Firestone a California State…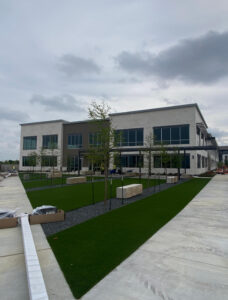 As an apartment complex manager, you know how hard it can be to attract tenants. There are just so many options out there for people to choose from. Sometimes, being pet-friendly is enough to get you noticed. Other times, your pool or in-unit washer and dryer might be the amenity that sets you apart. However,…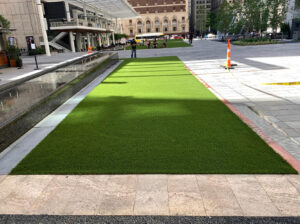 Reasons to Install Office Building Turf The first thing that comes to mind with artificial turf is often a bright green front lawn. But did you know you can install artificial turf in your office building as well? There are so many benefits to having turf in your office or commercial building, that benefit you…