Synlawn San Diego has been manufacturing and installing top quality synthetic grass for over 17 years. Artificial turf is perfect for residences and outdoor areas because it requires little to no maintenance, is environmentally friendly, and meets an expansive range of needs. Artificial turf also creates the perfect space for both beginners and professionals to practice their swings and improve their game over a clean and smooth surface.
Benefits of Golfing on Synthetic Turf
There are many advantages of golfing on artificial turf, including the following:
Consistency
Professional golfers prefer playing on synthetic grass because the smooth, consistent surface helps them perfect their skills. In contrast, golfing out on the range with real grass can impede your performance due to rough surfaces and regular wear and tear of natural grass outside. 
Furthermore, golfers won't have to worry about stepping in muddy puddles and getting their shoes ruined. Many popular golf driving ranges are made with synthetic turf to provide cleaner and better surfaces for its golf players.
Whether you are installing synthetic grass to play golf at home or out on the range, you can gain a realistic feel by adding extra features. Dave Pelz, a golf coach and professional, advises people that the best turf for athletics includes "consistent ball-roll and natural slow-down characteristics. You can also add Fairway, Rough and Fringe surfaces to create the ultimate golf experience." All these additional features will give you a natural golf feel that will allow every player to develop their swing skills and style throughout the year.
Convenience
It takes 10,000 hours to perfect a skill, and a majority of your time is often spent at home. Why not use that time to work on your short game by installing a putting green in your own backyard? 
Putting greens can be placed on any flat surface and are perfect for the whole family to enjoy. They are easy to assemble, portable (so you can have one at work, too), and create a natural appearance. There are many putting green grass options to choose from. Many of these options are stain-resistant, heavy-duty, and have HeatBlock Technology to lower any heat build-up.
Having your own personal putting green is highly valuable and enjoyable in terms of appearance, as well. They leave your backyard looking well-manicured and add to a home's overall landscape. You can even add sand bunkers to make your putting area more challenging to play on. Or, you can install a putting green at work for your entire company to enjoy. Putting greens make a comfortable break area for employees to relax and bond together.
Low-Maintenance
Synthetic turf on golf ranges, courses, and putting greens not only looks great but also requires less maintenance. Having to maintain real grass outside in inclement weather can be tiring and wasteful. In addition, adding fertilizer and spraying down grass with insecticides can hurt the environment. With artificial turf, you can create a natural and fresh green look without having to regularly water, mow, or fertilize the grass. 
According to Tom Watson, a five-time British Open Champion, artificial grass and putting greens "save on water, fertilizer, labor time, and are actually a 'green' product because they have a soy-based backing and are recyclable." 
Moreover, synthetic turf is often more durable for driving ranges and tee boxes. You can also have chipping mats that will absorb every hit. These practice mats are highly durable and made from the finest nylon and polyethylene grass.
Takeaways
Some golfers may prefer playing on natural grass. Still, synthetic turf will provide players with a smooth, clean, and environmentally-friendly surface to practice their swing on. The combination of having expert installers and high-quality synthetic turf makes it possible to have a realistic putting green and range, especially when adding extra features to your golf course.
If you would like to learn more about the best synthetic grass for your golf greens, our licensed professionals will be happy to answer any questions you have. Contact the experts at Synlawn San Diego today. 

On May 24, 2022, state officials approved a proposal to cut water consumption in California by 10 to 20%, which includes a total ban on watering beautiful lawns in subdivision common areas and on all commercial properties. "We are in this unprecedented drought. We need to act like it," said Laurel Firestone a California State…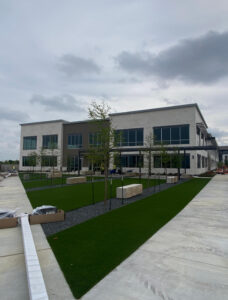 As an apartment complex manager, you know how hard it can be to attract tenants. There are just so many options out there for people to choose from. Sometimes, being pet-friendly is enough to get you noticed. Other times, your pool or in-unit washer and dryer might be the amenity that sets you apart. However,…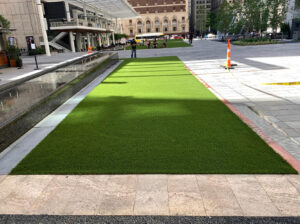 Reasons to Install Office Building Turf The first thing that comes to mind with artificial turf is often a bright green front lawn. But did you know you can install artificial turf in your office building as well? There are so many benefits to having turf in your office or commercial building, that benefit you…