SYNLawn San Diego is proud to announce the use of our revolutionary artificial grass at the San Diego Zoo here in Southern California. The popularity of our synthetic grass is growing by the day and is expected to become a $7,000,000 industry by 2025. Faux grass from us at SYNLawn San Diego is effortless to maintain and provides the superior durability and performance that are desired by commercial properties when they design their landscapes.
The Benefits of Soy-based Artificial Grass from SYNLawn
The growing demand for soy and plant-based synthetic turf and other products is at its highest. As a leader in our industry, we know that we have a duty to provide turf that promotes environmental sustainability. It is for this reason that we partnered with American soy farmers back in 2008 and have been locally sourcing soybeans and sugar cane to replace 60–80% of our components with bio-based materials. As a result, we are now the first and only collection of USDA-certified turf.
Many are familiar with the use of soybeans in the production of tires or the use of soy-based asphalt in the paving of roads. The industry for artificial grass is now offering up opportunities for yet another method to use soybeans in American products.
SYNLawn San Diego Artificial Grass & The San Diego Zoo
The San Diego Zoo is visited by thousands of people each day. This means that there is never a lull in heavy foot traffic, and this can make it impossible for conventional grass to thrive and create stunning impressions. To preserve these grass surfaces, the San Diego Zoo would have to dedicate every day to traditional maintenance throughout the property. This means incredibly high water bills, wasted water, maintenance crews, and lawn equipment. At SYNLawn San Diego, our artificial turf, however, does not require mowing, watering, or fertilizing of any kind. This makes it a low-maintenance, cost-effective, eco-friendly, and long-lasting solution for grass surfaces at the San Diego Zoo!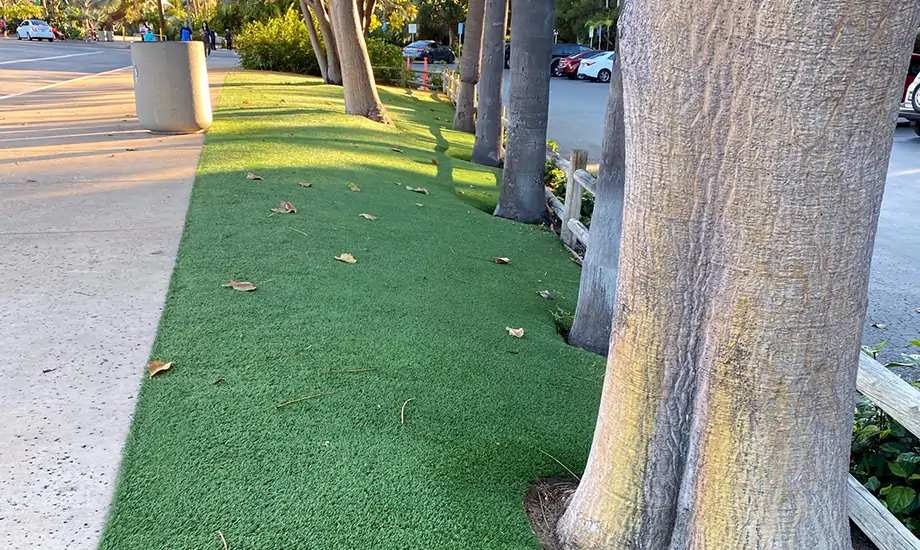 Improved Environmental Sustainability
Thanks to our work with American farmers, the EnviroLoc+ backing system for our artificial grass was created. This exclusive green technology is responsible for replacing the first 60% of harmful components in our manufacturing. EnviroLoc+ is responsible for locking in turf fibers to prevent shedding and tearing, as well as allowing our synthetic turf to be used almost immediately after coming into contact with liquids. EnviroLoc+ has a maximum drainage rate of 1,200 inches per hour. This is 40 times greater than the highest recorded rainfall in the U.S.
Statistics show that 50–70% of residential water consumption in San Diego, CA is attributed to lawn care. One can only imagine how much more it would cost for commercial landscapes. In addition, just one gas-powered lawn mower emits nearly 100 pounds of carbon each year, deteriorating the air that we breathe. Thankfully, at SYNLawn San Diego, our plant-based synthetic grass was designed to eliminate water waste and substantially reduce carbon emissions.
Beyond the San Diego Zoo and other attractions, homes across Southern California that are experiencing extreme drought conditions are making a conscious effort to replace their landscapes with our soy-based synthetic turf. Just one residential landscape alone can help conserve thousands of gallons of water each year, allowing us to take the initiative needed to begin recovering from drought.
Contact Us Today to Learn More About Our Artificial Grass & Its Applications!
Every year, the team from SYNLawn San Diego continues to explore the endless possibilities for our soy-based artificial turf in San Diego, CA. Our mission is to continue providing safer, cleaner, and greener turf, and we are proud to be the first company to provide a line of artificial grass made of plant-based materials and to open the door to new job opportunities for future environmental enthusiasts. For more information about our San Diego synthetic grass and all our services, contact us today and take advantage of your free consultation!