Golf enthusiasts all across San Diego are always on the hunt for ways to improve their golf game. Whether it's a favorite ball, club, or course, they all understand one thing, the importance of quality. In response, SYNLawn designed state-of-the-art golf greens to check the box on everything important to our golf customers. San Diego golf greens from SYNLawn are designed to make maintenance a thing of the past and encourage you to focus on your goal of a perfect game.
To ensure that your lawn of golf course not only look their best but perform at their best, you would need to dedicate a substantial portion of your week or even year towards maintenance, mowing, watering, and reseeding. This alone can significantly reduce your initiative to play your favorite sport. For this reason, SYNLawn partnered with professional golf coach Dave Pelz to engineer the perfect solution for backyard putting greens in San Diego. With his help, we were able to accurately replicate the same PGA-caliber performance that you have come to expect of your favorite courses. San Diego golf turf offers a true ball roll, realistic putt, and proper energy absorption to promote natural slow down and all bounce. You can enjoy convenient access to a PGA-caliber putting green from the comfort of your backyard, without having to spend hours and thousands of dollars on maintenance.
Eco-Friendly, Reusable, and Recyclable
SYNLawn is known for its ultra-realistic artificial grass as a result of its low-maintenance design, eco-friendly materials, and advanced turf technologies. So, it was a no-brainer for SYNLawn to implement these sought-after benefits into our golf turf and backyard putting greens. With the help of US soy farmers, we are able to replace a large portion of petroleum from our manufacturing with plant and bio-based materials such as sugar cane and soybean oil. This eliminates the need for gas-powered lawn equipment that puts carbon emissions into our atmosphere and helps to conserve thousands of gallons of water throughout San Diego. Furthermore, because our products are recyclable, they significantly reduce the impact on local landfills and can be reused for future project installations.
Additionally, with water shortage concerns and new drought restrictions, it is becoming harder than ever for landscapes to support a lush and vibrant natural sod lawn. With a SYNLawn artificial grass putting green installation in San Diego, you can enjoy that vibrance of real grass with the added benefit of being able to practice your putting and chipping skills to shoot lower scores on the golf course. In fact, many of our customers save up to 50-70% on their water bills by installing our highly rated synthetic grass and golf greens.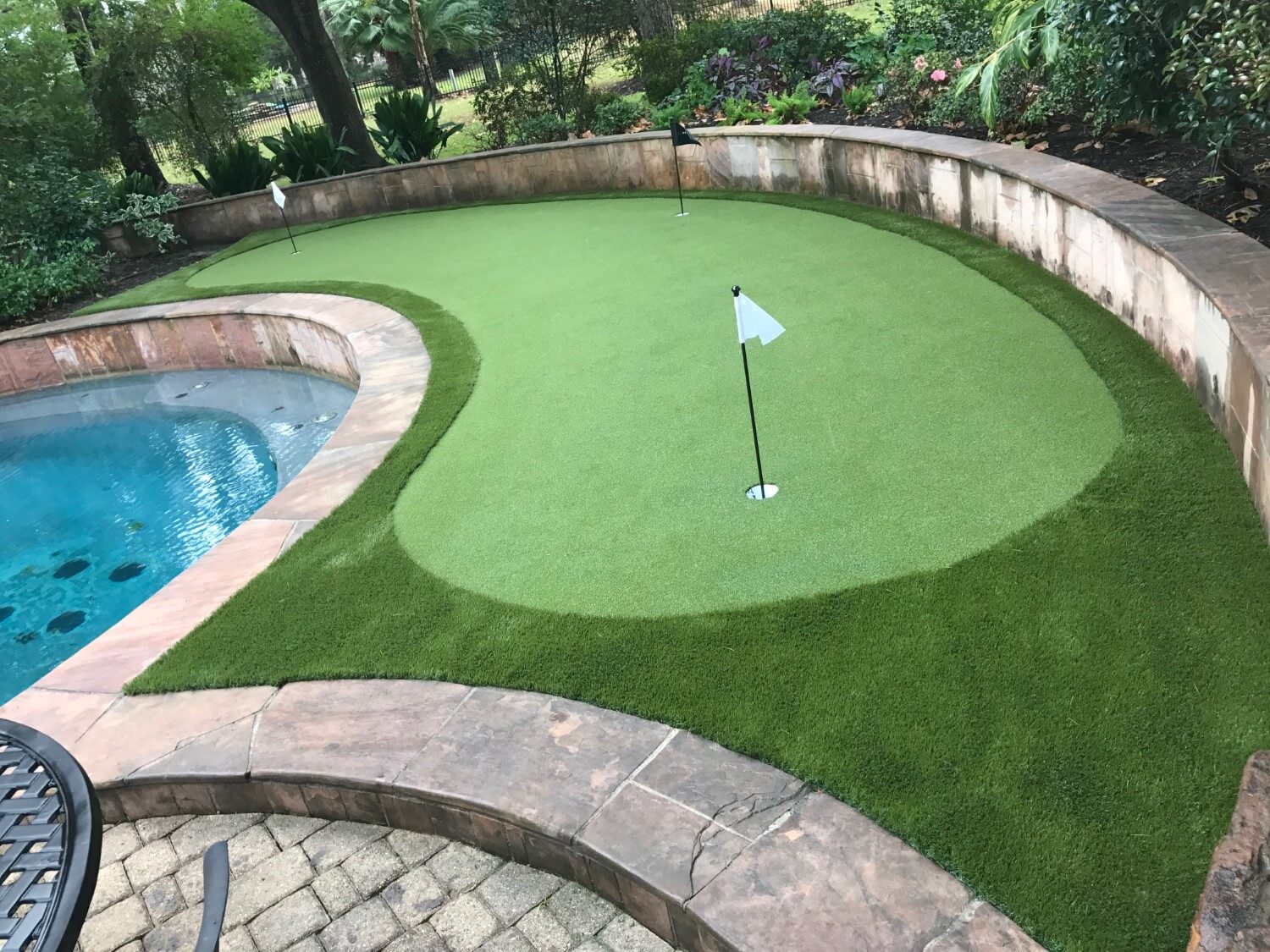 SYNLawn® San Diego Golf Greens Are Perfect for Any Space and Skill Level
San Diego golf greens from SYNLawn are perfect for a wide variety of applications as they can be customized to fit any space, with several different customization options for you to create your dream putting green. Whether you are wanting to add a small golf green with a tee box or are wanting a full 18-hole mini golf course in your backyard, we can make it a reality. Our team of highly trained, GreenMaster™ certified putting green installation experts are always kept up to date on the newest and most cutting-edge installation technique to ensure that your backyard golf green delivers a superior golf experience for years to come.
Some unique customization options you can include in your San Diego backyard putting green include:
LED cup lights for nighttime play
Sand traps
Bunkers consisting of various colored turf options
Tee boxes
Tee lines that allow the use of real golf tees
Fringe, fairway, and rough surfaces
Slopes and hills
Include natural features such as boulders and trees
Custom flags and more
We are North America's leading manufacturer and installer of synthetic grass and professional-grade golf greens in San Diego, CA, and surrounding areas. All SYNLawn golf greens are proudly made in America and are held to the greatest quality standards. Since manufacture all our synthetic grass products in our own manufacturing facility in Dalton, Georgia, USA, we are able to guarantee the highest level of quality control at every stage of product development.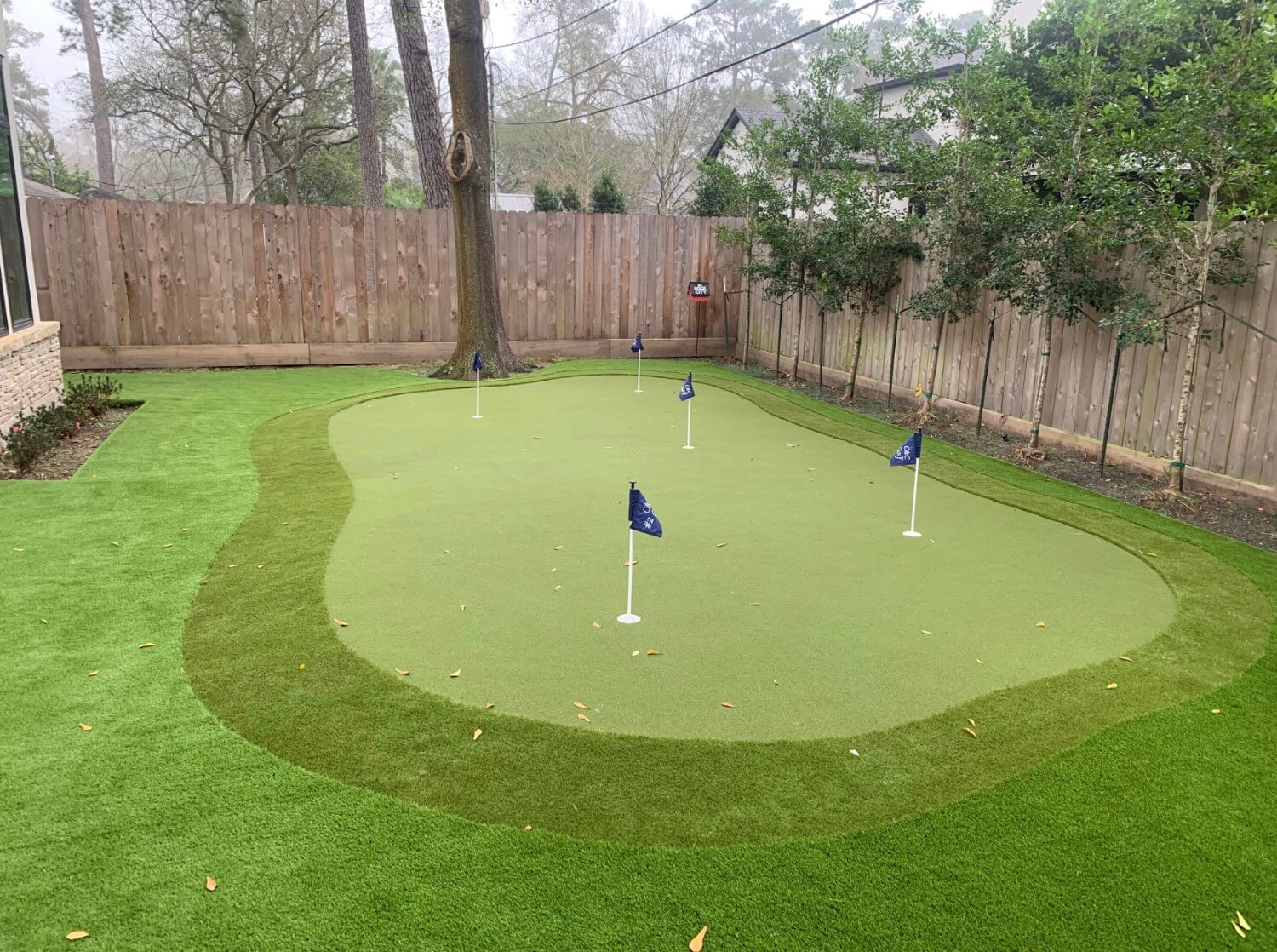 Since 2004, we have completed thousands of San Diego golf green installations, and we have an extensive network of knowledgeable, resources, and installers that can assist you. Our putting greens are perfect for all ages and skill levels. So, whether you are picking up a club for the first time or you have been playing for decades, your experience will be consistent with that of the pros.
We now offer monthly payment plans and financing options! It is easier and more affordable than ever to put the industry's highest quality putting greens in your backyard. Schedule your free consultation and get a quote on your brand-new golf course or putting green today!
With over 50 years of experience, thousands of successful installations, and over 150 five-star reviews, you can rest assured knowing that your investment is worth every penny. Don't wait, contact SYNLawn San Diego to learn more about our San Diego backyard putting greens and installation services.