Water Authority Letter Could Mean Costly Future for Ratepayers

Local Water Districts may be on the hook for billions

A recent letter from the San Diego County Water Authority claims that the water districts of Rainbow and Fallbrook would owe $1.2 billion should they stop purchasing water from the County Water Authority (SDCWA). The letter could signal future massive payments by other local water districts that are seeking to decrease their future water purchases. Based on the SDCWA's rationale, water districts could be on the hook to pay billions for water they won't need or use.
BACKGROUND
The water districts of Fallbrook and Rainbow are currently seeking to switch wholesale water suppliers from the SDCWA to the Eastern Municipal Water District (EMWD), which is expected to save their ratepayers millions of dollars each year. The terms and conditions of this switch, also known as detachment, fall under the purview of San Diego's Local Agency Formation Commission (LAFCO). If LAFCO approves their requests, the issue would ultimately be brought before the residents of the two departing districts for a vote.
On September 2, the SDCWA submitted a letter to a consultant hired by LAFCO seeking potential "exit fees" to be placed on the two water districts. Within the letter, the SDCWA claims that the two agencies represent 6% of their total revenue and should therefore pay the equivalent share of what the SDCWA estimates to be its total liability. The SDCWA estimates its total liability at $20.5 billion and thus requiring a $1.2 billion payment (6%) by the two small districts to detach. Below is the table from that letter.

WHAT DOES THIS MEAN FOR OTHER WATER DISTRICTS?
In a letter dated September 24, the Rainbow and Fallbrook water districts responded to SDCWA's claims calling them "illogical" and "not moored in law or even common sense." The letter also provides a table breaking down each of the 24 member agencies' massive "obligations" based on the SDCWA's math. The full breakdown taken from the letter is below.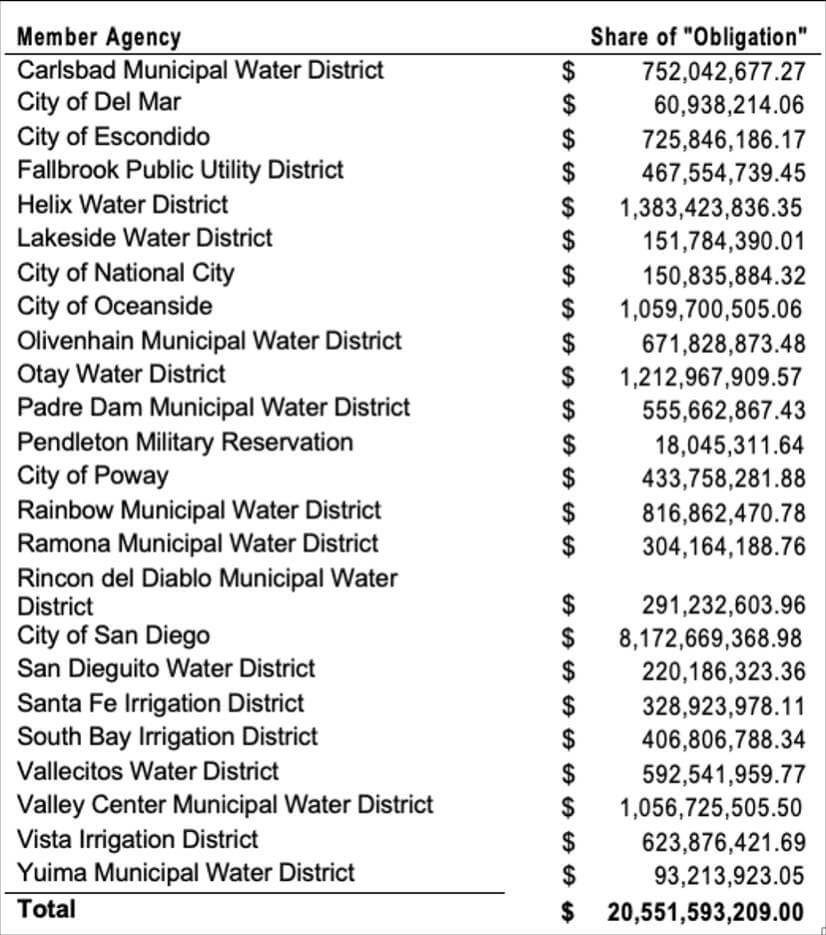 Many water agencies are looking to reduce their dependence on SDCWA water through upcoming water recycling and conservation projects, detailed in a recent Voice of San Diego article. These include the cities of San Diego and Oceanside, as well as Padre Dam Municipal Water District, Helix Water District and Olivenhein Municipal Water District.

Will they be on the hook for billions?

Time will tell.

If imposed, though, these "obligations" would no doubt inhibit these agencies' ability to create their own local water supplies and increase their reliance on imported water from the Colorado River.

LAFCO is expected to weigh in on Fallbrook's and Rainbow's detachment efforts by early next year. Their next advisory committee meeting on the subject is scheduled for Monday, October 4 at 1:30 pm.
Ratepayers for Water Choice is a public information outreach effort by the Rainbow Municipal Water District and the Fallbrook Public Utility District.


Copyright (C) 2021 Ratepayers for Water Choice. All rights reserved.
You are receiving this email because you are known to be engaged in civic affairs.
Our mailing address is:
Ratepayers for Water Choice
990 E Mission Rd
Fallbrook, CA 92028-2232