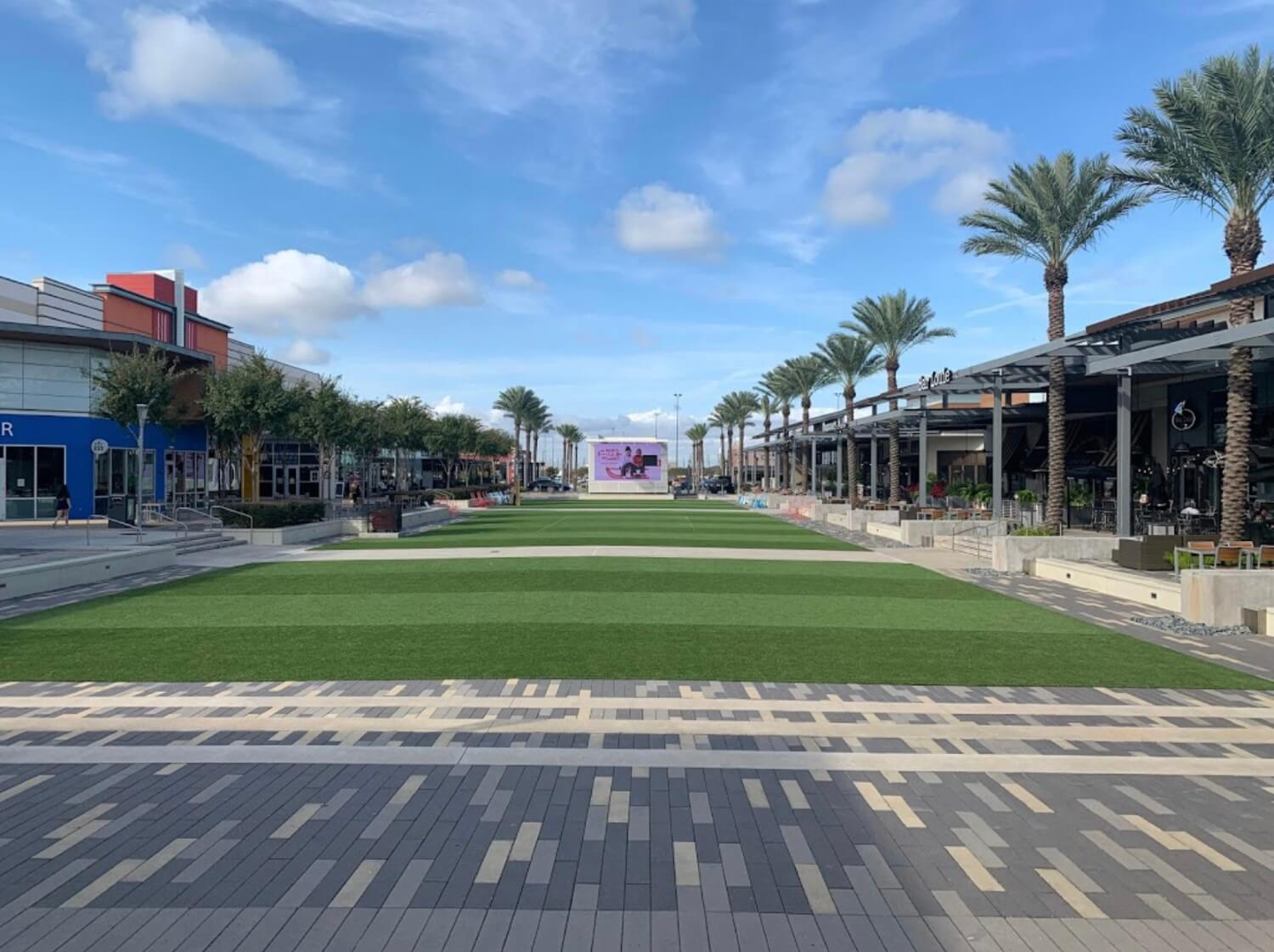 San Marcos residents are falling in love with their artificial grass from SYNLawn® San Diego. No longer are they burdened with the constant upkeep that is needed to achieve a gorgeous lawn all year long. SYNLawn® synthetic grass sits at the cutting-edge of turf technology with its breakthrough innovations and eco-friendly benefits. The ultra-realistic appearances provided by San Marcos artificial grass alone is convincing customers to make the switch. Our products look and feel like real grass.
Commercial properties enjoy the many benefits of SYNLawn® products as well as the incredible yearly savings on both time and money. All year long your landscape will look luxurious and vibrant setting the ultimate first impression on your customers and guests. SYNLawn® products are designed to offer superior durability and strength to combat heavy foot traffic and any weather condition. In addition, we partner with US soy farmers to locally source materials including sugarcane and soybean oil, and offer a large collection of USDA-certified options.
Our products are perfect for lawns, landscapes, golf greens, pet areas, playgrounds, and more and provide unique features including:
Super Yarn™ technology — includes Sanitized® antimicrobial, DualChill™ IR reflection, and StatBlock™ anti-static
EnviroLoc™ plant-based backing system — locks in turf fibers to prevent shedding and tearing
UV-Stabilized yarns — prevent natural hues from fading
Fire-rated and tested
Unmatched limited lifetime warranty
Odor-controlling top-dressing reduces 80% of odors
caused by ammonia in pet waste
Made with recyclable materials here in the US
Hypoallergenic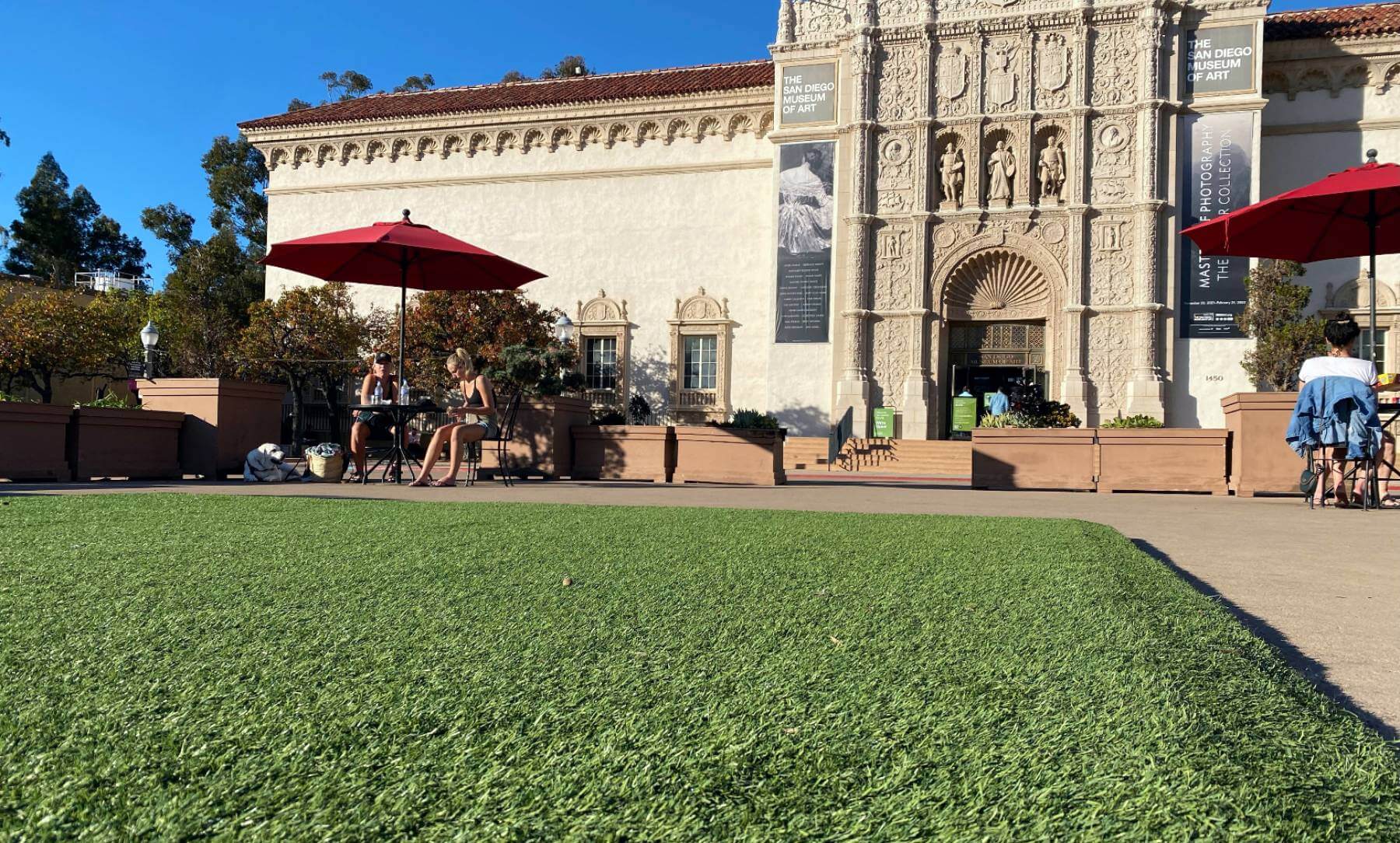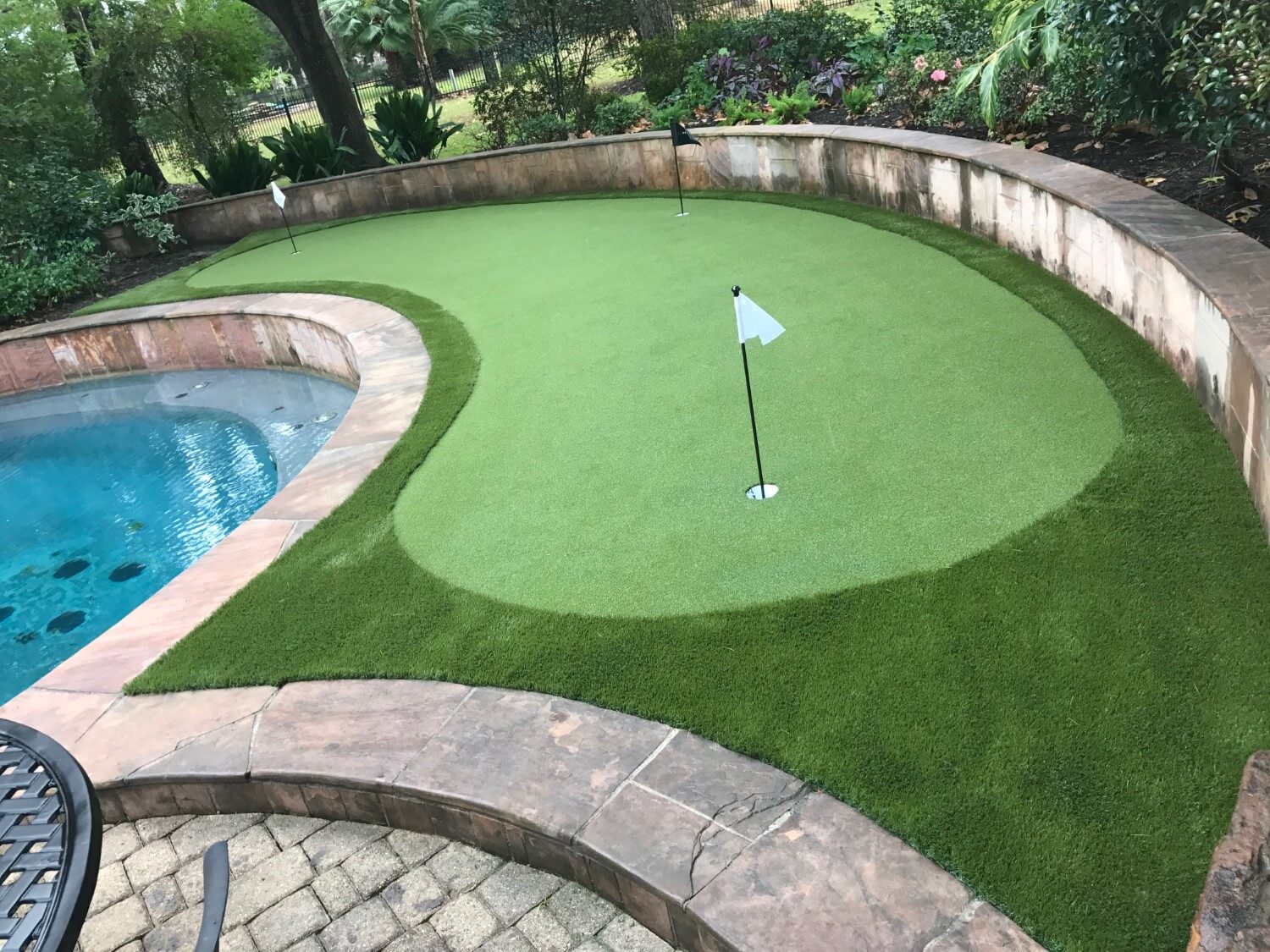 SYNLawn® partnered with professional golf coach Dave Pelz to ensure that our golf greens offer PGA-caliber performance and durability. Regardless of age or skill level San Marcos putting greens are perfect for honing your skills and fine-tuning your short game. Engineered by ex-NASA engineers SYNLawn® golf turf is as close to real grass as scientifically possible. Whenever the mood strikes you can take advantage of our full course, backyard, or portable options.
Benefits include:
Realistic putt with a very true ball roll
Extremely durable surface chip on
No water can settle beneath the putting green turf and wash the base out
Effective drains in each cup prevent backfill of water and mold
Ability to install LED cup lights for personal flair
Add sand traps, tee lines, tee boxes, slopes, obstacles, and more
SAN MARCOS PET TURF
SYNLawn® loves pets just as much as you so which is why our artificial grass is perfect for them as well. We take the hassle out of maintaining your landscape from holes, shedding, or pests that may try to make a home out of your pet. No more muddy paws, fleas, ticks, or holes in the yard. Your furry friend's paws will also be safe from burning thanks to our revolutionary HeatBlock™ technology which reduces surface temperatures up to 20%. More than any other competitor on the market.
Additional features and benefits include:
Odor control through the incorporation of Envirofill®
Stain-resistant and very easy to clean
No watering, fertilizing, or mowing
No brown spots caused by pet waste
No digging, no holes in your yard
Prevents moles and gophers from destroying the lawn
Optimal drainage at a rate of 90 inches per hour
No dirt or mud to be tracked into your home
No pests such as fleas or ticks, help prevent the spread of disease
Added security upgrades available for destructive dogs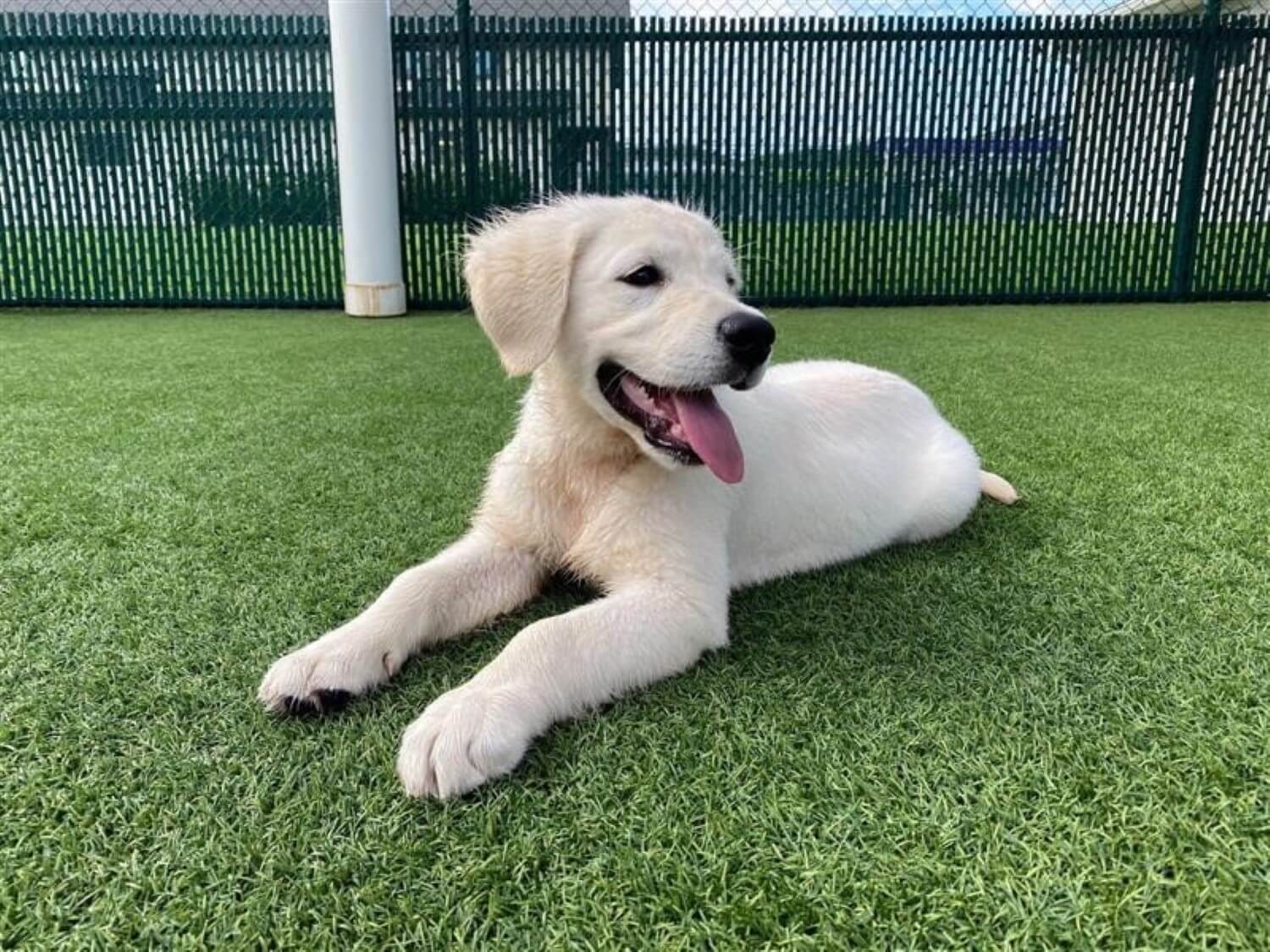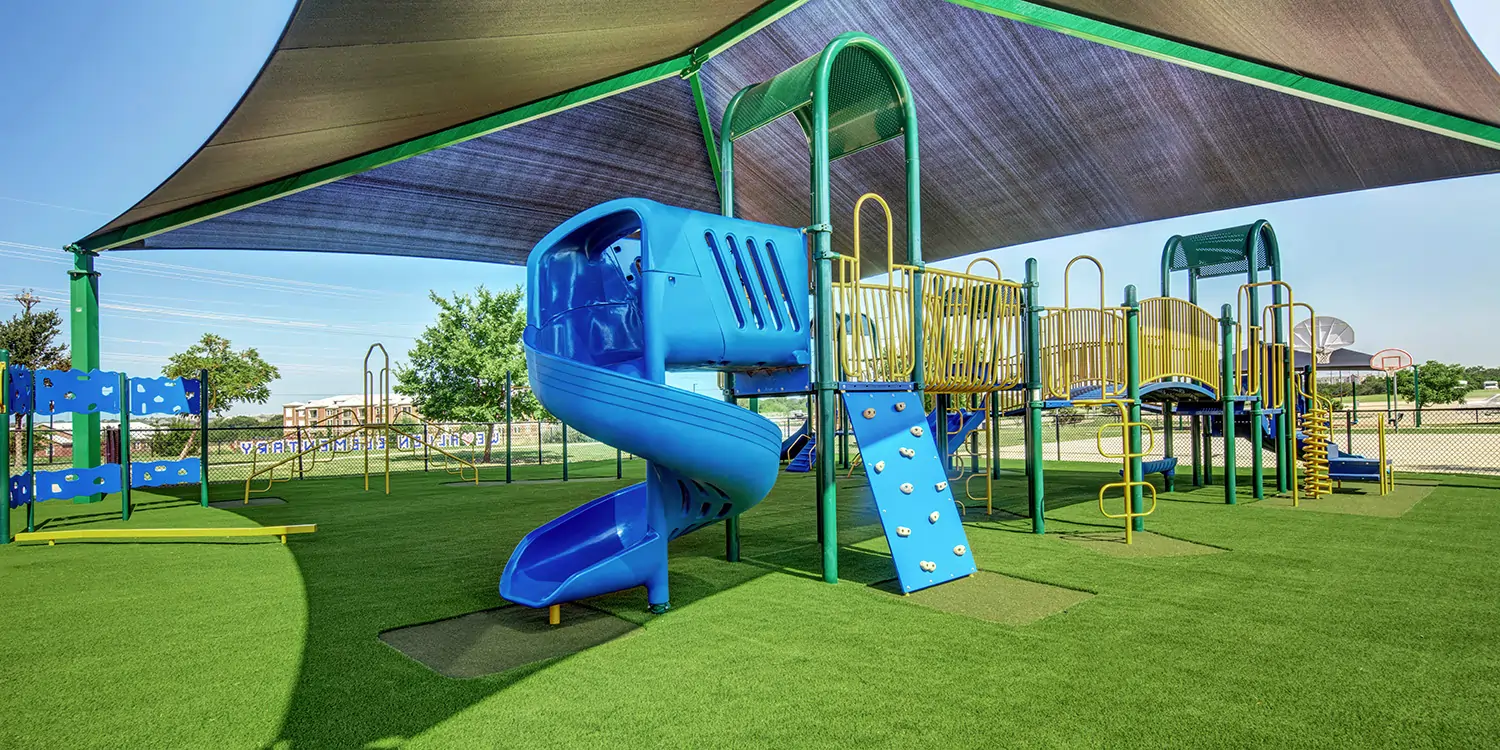 SYNLAWN® PLAYGROUND SYSTEMS MAKE SAN MARCOS PLAYGROUNDS SAFER
While it is important to encourage our children to play with their friends, it is just as important to ensure that they do so safely. When we design our playground turf, we start on the foundation of safety. As a result, our playground grass is IPEMA and ADA compliant so we can take away the worry of common injuries and abrasions, and cushion falls up to ten feet. Additionally, San Marcos playground grass is wheelchair compatible, so no one misses out on the fun.
Hypo-allergenic
Made with recyclable and eco-friendly materials
The top layer consists of soft, synthetic grass that is non-abrasive
StatBlock™ is a carbon-based anti-static component that reduces static buildup
HeatBlock™ lowers rising temperatures by reflecting sunlight and reducing heat buildup, resulting in 20% cooler grass
Fall Pad® subbase cushioning technology provides a soft padding-bottom layer
ASTM tested to meet HIC (Head Injury Criteria) requirements, and more
SAN MARCOS PATIO AND DECK ARTIFICIAL GRASS
Many of us have decks or patios that feel like they might be missing something. SYNLawn® makes it easy to reclaim that unused space and turn it into something vibrant and inviting. Installing San Marcos artificial grass increases not only your property value but gives you a new place to gather with friends and family outside of your normal routines. Rain or shine, your roof, deck, or patio, will remain in perfect appearance and can stand up to all weather climates. Additionally, these products are fire tested and rated by ASTM to further our commitment to safety.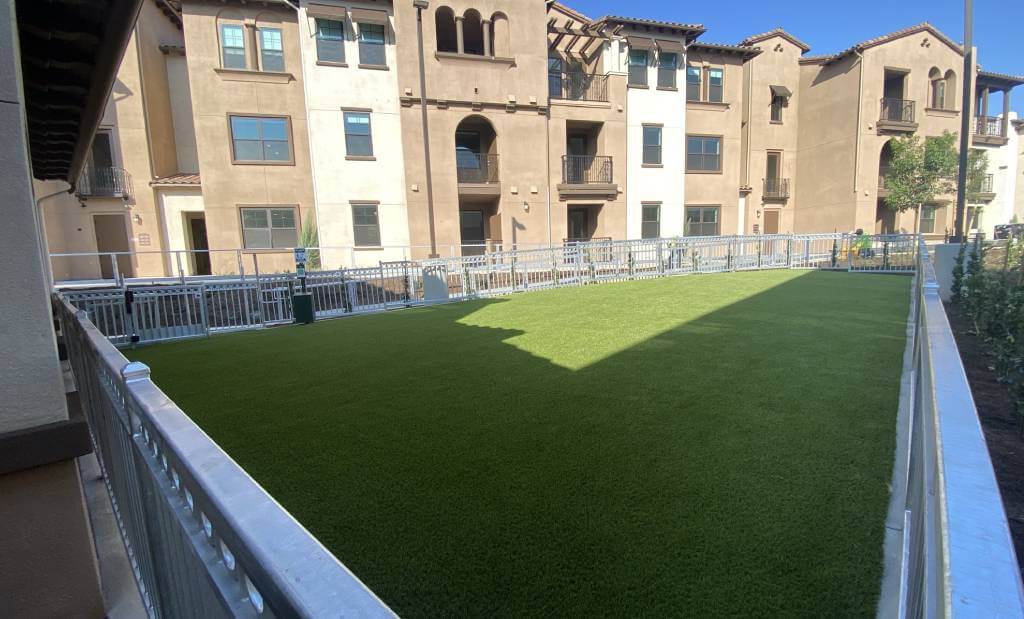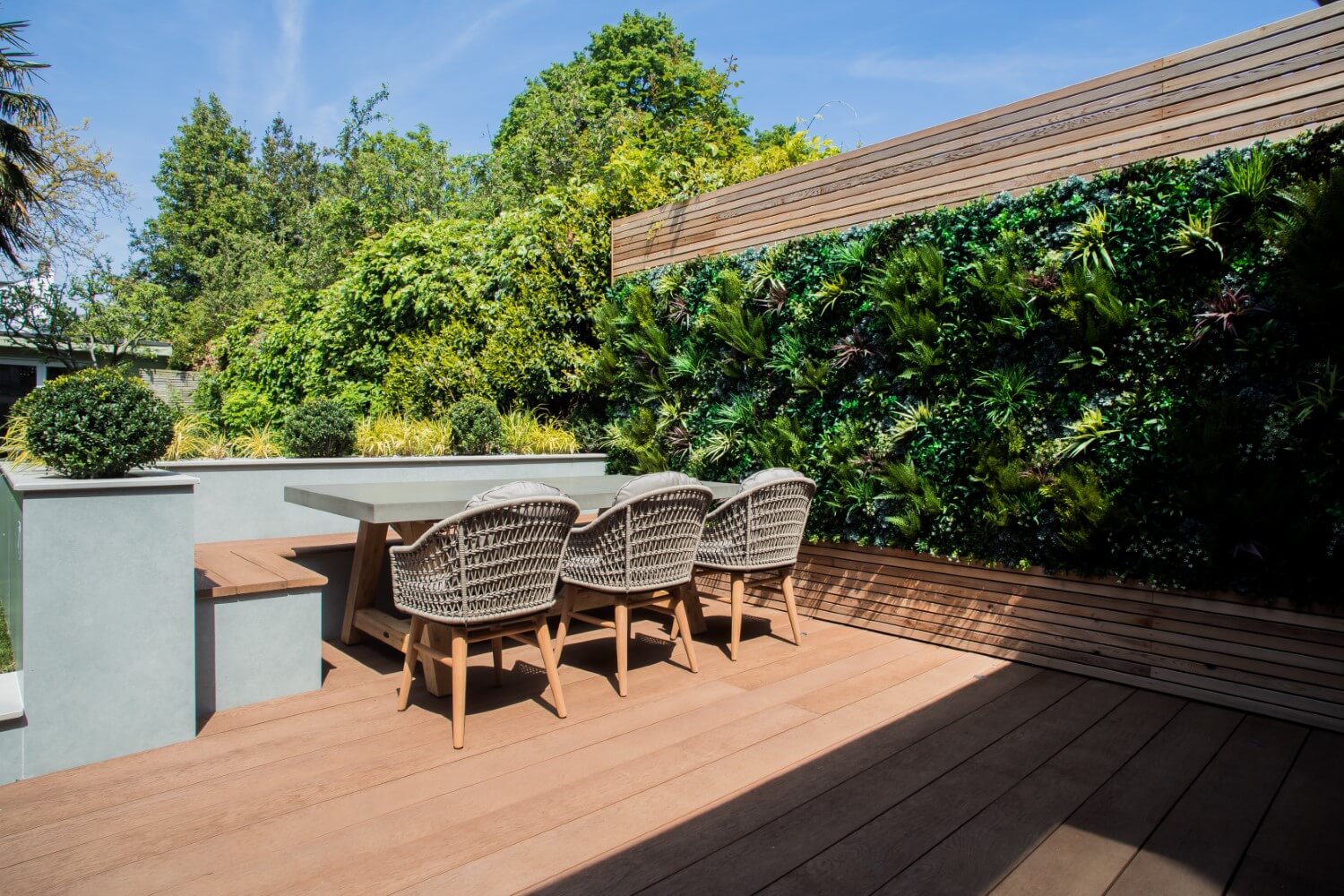 ARTIFICIAL LIVING WALL APPLICATIONS IN SAN MARCOS
Artificial living walls are handcrafted by VistaFolia® utilizing the highest quality faux foliage and pure color pigments. We ensure that each of our plant panels provides a unique appearance to all of our customers. San Diego artificial green walls provide all of the visual benefits of real plants without maintenance. No more trimming, pruning, or irrigation. With VistaFolia® you can transform any indoor or outdoor design into an urban oasis getaway.
Quick and easy installation
Indoor and outdoor designs
8 varieties of bright colors and lush textures to choose from
Lightweight panels designed to allow free movement of air
Unmatched realism: exact colors, shadings, and dimensions
UV-protection to minimize fading of outdoor installations
Customizable arrangements with a range of color boxes
Manufactured to ISO 9001 quality standards