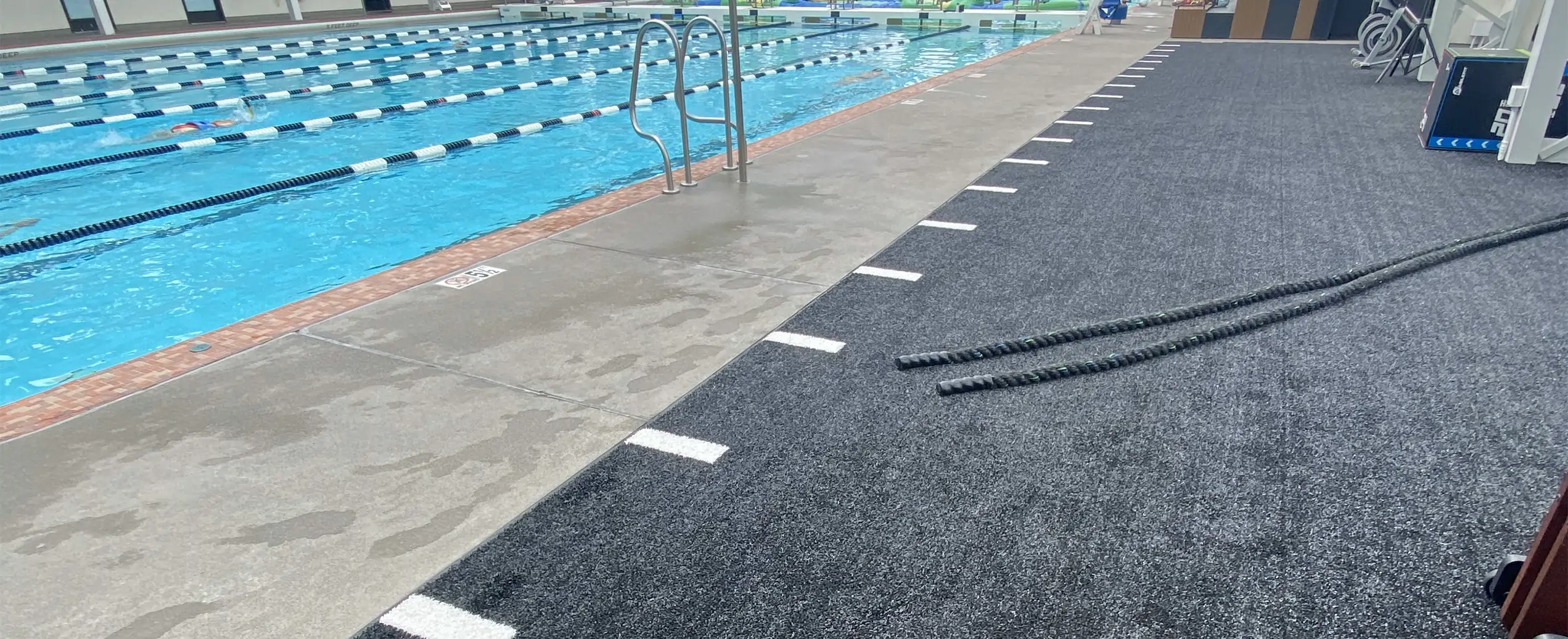 Plunge San Diego
Products Used: SYNPlay60
Square Footage: 915 sq ft.
SYNPLAY60
Designed with athletes in mind, SYNPlay 60 artificial turf was chosen for this project for its durable, non-abrasive nature.
Combined with a shock-absorbing backing pad, SYNPlay 60 reduces stress on joints and helps prevent common injuries from exercise, sports practice, and playtime.
Additionally, athletes of all ages can enjoy this artificial grass solution knowing it is rated to protect up to a 9-foot fall.
SYNPlay 60 is highly customizable, comes in 7 standard color options including red, Florida blue, green, black, and white, with the option of custom colors available.
Finally, as you can see from this installation, we can pre-fabricate your favorite sports team or your business' logo to your SYNPlay 60 athletic turf surface.
SYNLAWN®
SYNPlay 60 artificial turf is perfect for commercial applications because it is manufactured to handle the demand of rigorous training sessions.
SYNPlay 60 can help defend against injuries that may occur during your favorite activities and can be customized to fit your unique specifications.
With its 5mm foam backing, you can take a lot of the worry out of having a rough fall from significant heights, as well as feel comfortable taking time to rest after hours of intense or light activity.
Whether indoor or outdoor, UV stabilizers in our turf work to prevent fading on our synthetic turf surfaces keeping them as vibrant and lush as the day they were installed.
In addition, as with all of our turf solutions, SYNPlay 60 is extremely low maintenance, doesn't require upkeep or excessive watering, and is designed for improved safety and athletic performance.
SYNPlay 60 is the perfect solution for agility training, landscapes, and playground applications, and comes with a 9-year warranty.
SYNLawn® artificial turf products are manufactured in the USA in our manufacturing facility in Dalton, Georgia.
We partner with landscape architects, landscape designers, architectural firms, general contractors, construction companies, roof contractors, and more to create immaculate landscapes deigned for sustainability.
We work side by side with US soybean farmers to create recyclable bio-based solutions for our synthetic turf to reduce the impact on landfills, save thousands of gallons of water every year, and cut down our carbon footprint.
SYNLawn® also works directly with athletic facilities, sporting events, schools, school districts, universities and more, to create safer and more resilient artificial grass applications. For more information on our artificial grass installation services or products, or to schedule a free consultation, contact us today!