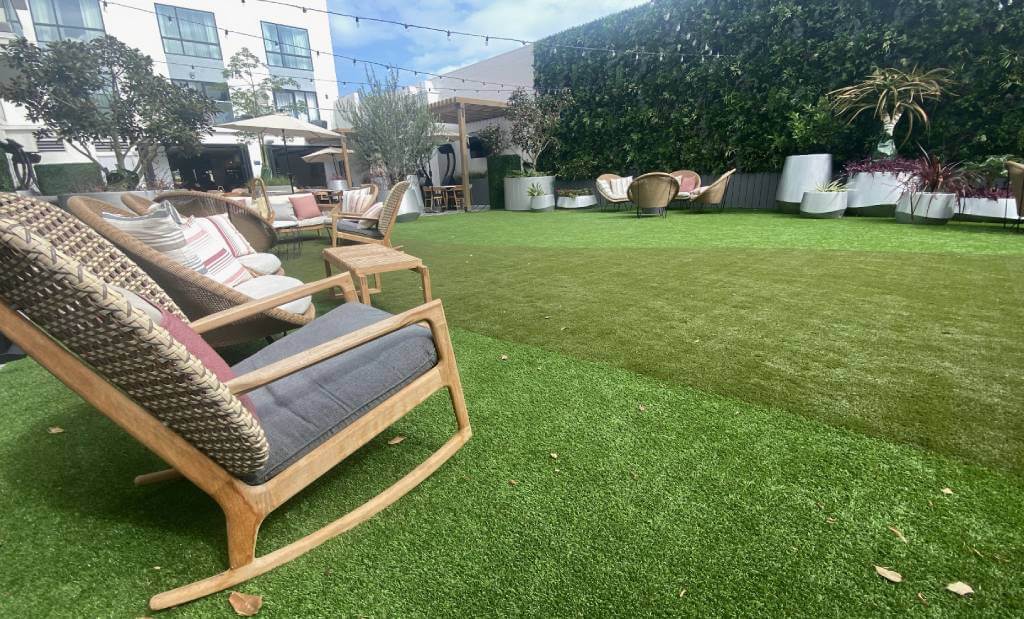 Monsaraz Hotel
Products Used: SYNAugustine X47 and Precision Put
Square Footage: 14000 sq ft.
SYNRYE 200
SYNLawn® San Diego recently completed a custom courtyard artificial grass installation for the brand-new Monsaraz Hotel by Hilton™. The Monsaraz Hotel debuted in June 2021 with the goal of combining an artistic lifestyle with sociability.
The new courtyard embodies this sense of independence while keeping consistent with Hilton's collection of over 65 original properties. The property's distinctive architecture and colorful personality invite guests to immerse themselves in the local food and culture of San Diego's harbor.
The main objective of this project for SYNLawn® was to combine elegance and durability for this gorgeous project designed to reflect the cultural diversity of San Diego. This courtyard installation was constructed over what used to be a parking deck.
To transform the base into something safer and more comfortable, both of these artificial turf solutions were placed over our state-of-the-art rubber underlayment system SYNPour. Installed above the SYNPour is our SYNRye 200 and SYNSport artificial grass to create one cohesive and artistic design.
SYNRye 200 and SYNSport offer our exclusive EnviroLoc™ backing system, HeatBlock™ technology, and UV stabilized yarns to prevent the turf from fading. To accommodate numerous safety standards, SYNRye 200 and SYNSport are IPEMA certified and SYNSport is ASTM E108 Class A fire rated.
Additionally, these two artificial grass products were chosen at similar pile heights to comply with ADA standards and prevent trip hazards.
SYNLAWN®
HeatBlock™ technology is our proprietary technology designed to provide significantly cooler surface temperatures than any other synthetic grass on the market. This revolutionary technology is scientifically proven to provide up to 20% cooler surface temperatures than any other competing artificial turf product.
HeatBlock™ lowers rising temperatures by reflecting sunlight and reducing heat emissivity. In addition, we add a deluster to our artificial turf that reduces shimmer for a more realistic look that you can see and feel.
Our soft, non-abrasive surfaces provide a safe and comfortable space for lounging and enjoying numerous outdoor activities.
Environmentally friendly and sustainable, our EnviroLoc™ backing is a proprietary system made from plant-based materials such as soybean oil. EnviroLoc™ secures turf yarns in-place and prevents shedding that is common with traditional sod and competing artificial turf products.
This backing system plays a large role in reducing landfill impact and cutting down our carbon footprint. SYNLawn® partners with local farmers in the USA to create the first USDA-certified artificial grass products renowned for using over 70% of bio-based materials within its composition.
SYNRye 200 and SYNSport are perfect for commercial applications including commercial artificial lawns, golf courses and San Diego putting greens, athletic facilities, and playgrounds.
These products do not require the maintenance found with traditional sod, saving you time and money on lawn care and lawn maintenance services. You will no longer need to clean up after muddy shoes and paws during the winter, or after a rainstorm, nor will you have to repair holes in the lawn from animals that like to dig.
Your landscape will continue to look its best from the day of installation, throughout the year, and for the entirety of its very long lifespan. SYNRye 200 is available in 5 different color options and much like our other turf products, is customizable to fit spaces of any size.
Both SYNRye 200 and SYNSport can be used indoors and outdoors and are perfect options for those wanting hyper-realism and high-performance results within a budget.
SYNLawn® San Diego is committed to creating safe, clean, and environmentally sustainable surroundings that look immaculate for years to come. SYNLawn® artificial turf and golf greens can be modified to meet virtually any commercial or residential specification.
We are dedicated to delivering superior customer service and synthetic turf installations that you can take pride in. With over 50 years of industry experience and research and development, SYNLawn® has grown to become an industry leader in artificial grass without sacrificing installation quality or our unparalleled customer service.
Our ultra-realistic products require zero maintenance, survive all climates and weather conditions, and are backed by an unmatched limited lifetime warranty. For more information on our services, products, and commitments, contact SYNLawn® San Diego today for a free consultation!