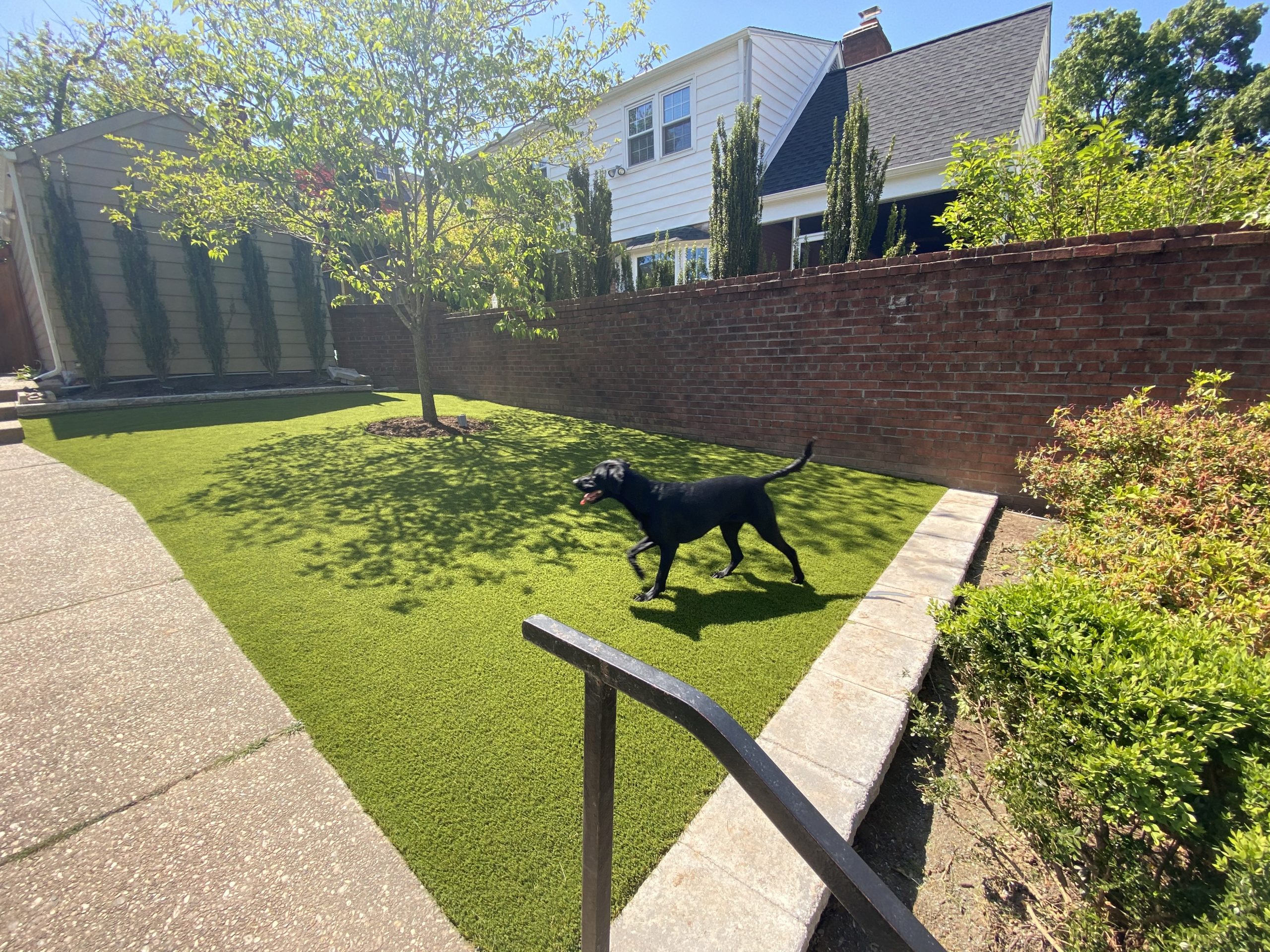 SYNLawn® synthetic grass in La Jolla, CA is here to provide the industry's most realistic, plant-based, and technologically advanced artificial grass. More and more every day our customers make the switch to SYNLawn® artificial grass and save incredible amounts of time and money on maintenance and water bills while achieving the perfect lawn, all year long. No more holes, weeds, or sprinkler systems.
At SYNLawn® San Diego, we strive to provide the highest quality eco-friendly artificial turf products. As a result, we partner with US soy farmers to locally source recyclable plant-based materials that reduce carbon emission, conserve water, and won't end up in landfills across the US. We are additionally the first company to offer an extensive catalog of USDA-certified products. Our La Jolla synthetic turf is safe for both children and pets and is designed to last for many life cycles while looking lush and vibrant in all climates.
Commercial properties choose SYNLawn® for many of these reasons as well as the innovations that set us apart from the competition. We specialize in the installation of lawns, landscapes, dog parks, playground systems, golf greens, living walls, and more. SYNLawn® commercial installations allow business owners to focus on what will make them successful rather than the consistent maintenance of their landscape. Instead, their business front will always give off a stunningly professional first impression to all of their future and recurring customers.
SYNLawn® artificial grass in La Jolla, CA offers many benefits and features including:
Super Yarn™ technology — includes Sanitized® antimicrobial, DualChill™ IR reflection, and StatBlock™ anti-static
EnviroLoc™ plant-based backing system — locks in turf fibers to prevent shedding and tearing
UV-Stabilized yarns — prevent natural hues from fading
Fire-rated and tested
Unmatched limited lifetime warranty
Odor-controlling top-dressing prevents odors caused by ammonia in pet waste
Made with recyclable and plant-based materials here in the US
Hypoallergenic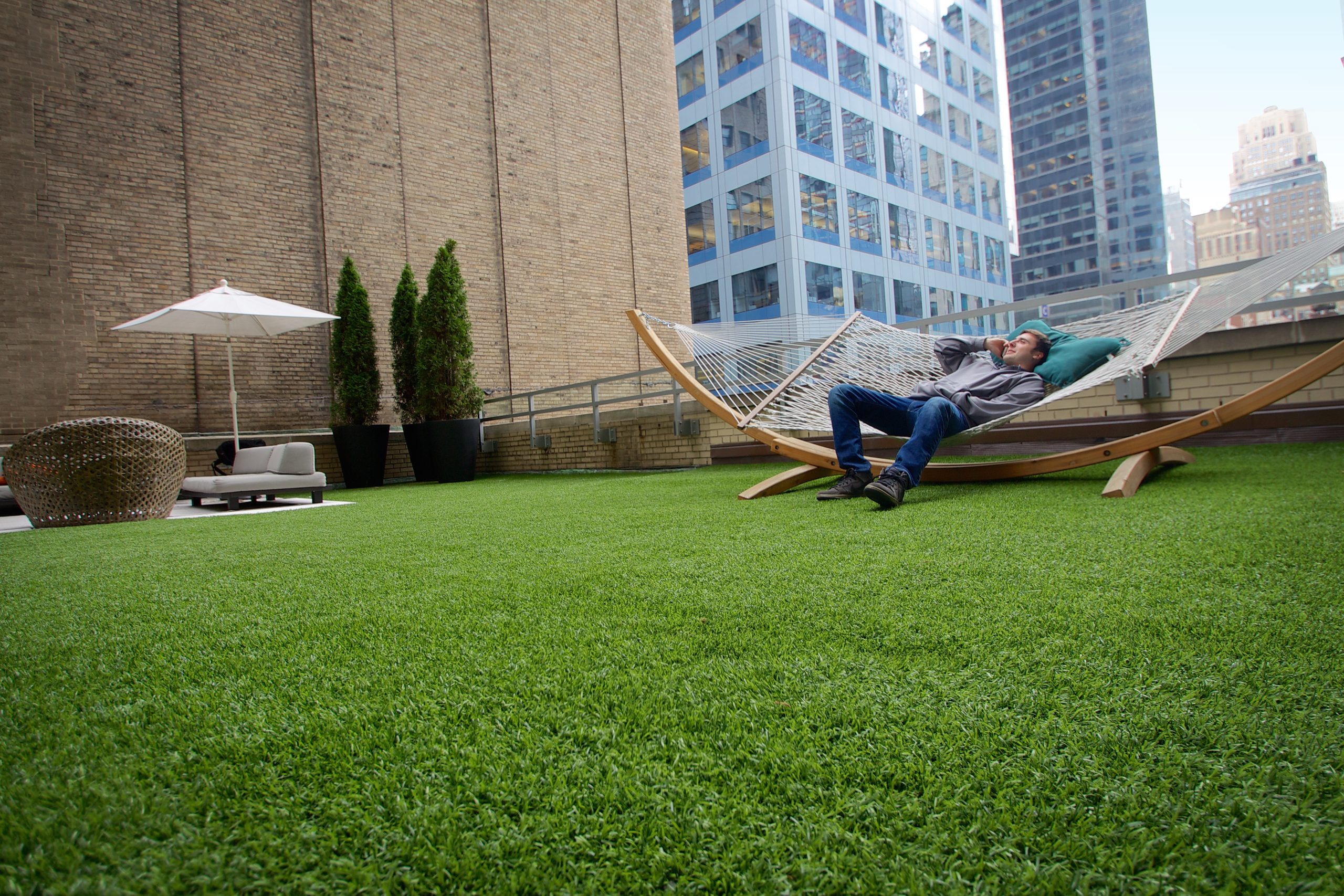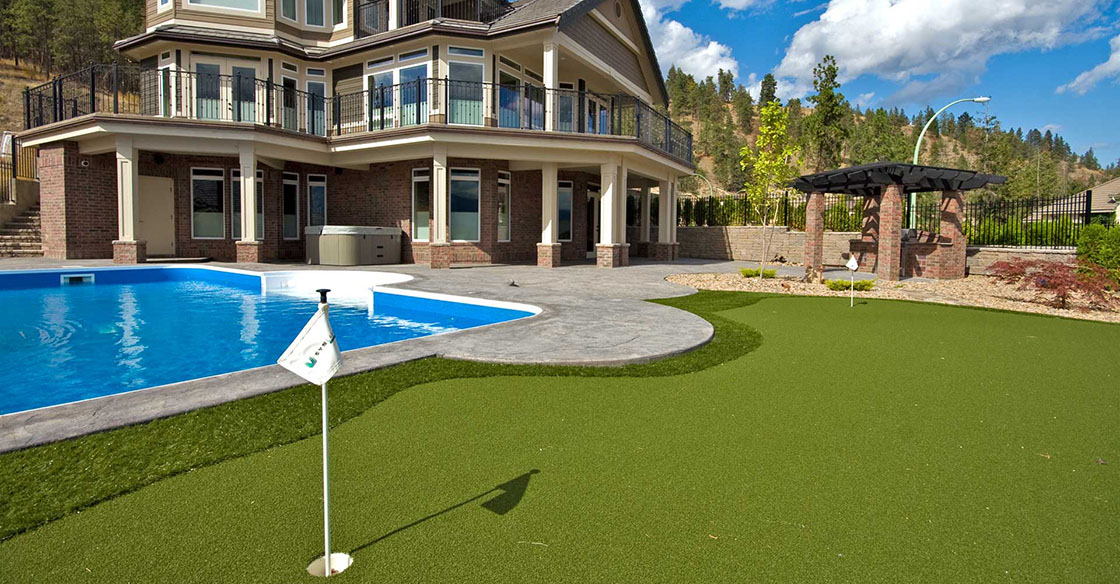 LA JOLLA, CA GOLF PUTTING GREENS
In La Jolla, CA, golf enthusiasts get the best the industry has to offer from SYNLawn®. We partnered with professional golf coach Dave Pelz to engineer our professional grade putting greens. SYNLawn® golf greens are designed to accommodate all skill levels and age ranges and allow for customization to make them uniquely yours. On the golf field, your increased putting skills will save you strokes. Aesthetic landscape design is also an important component of the perfect green. A well-designed La Jolla putting green adds a level of refinement and elegance to your garden that is impressive in its own right. It is also one of the most effective ways to make the most of your outdoor living space.
SAFE, CLEAN & DURABLE LA JOLLA PET TURF
Pet Turf by SYNLawn® can save you the hassle of maintaining your lawn from pet stains, odors, and holes. Additionally, La Jolla pet grass provides a safe and sanitary surface for your pets to play and relax in the sun. Coated with Sanitized® antimicrobial, we are able to eliminate 99% of bacteria and fungi from growing on your landscape. Your pets will be safe from infections and pests such as fleas and ticks that like to make themselves at home on your pet's fur.
Odor control through the incorporation of Envirofill®
Stain-resistant and very easy to clean
No brown spots caused by pet waste
Prevents moles and gophers from destroying the lawn
Optimal drainage at a rate of 90 inches per hour
No dirt or mud to be tracked into your home
Added security upgrades available for destructive dogs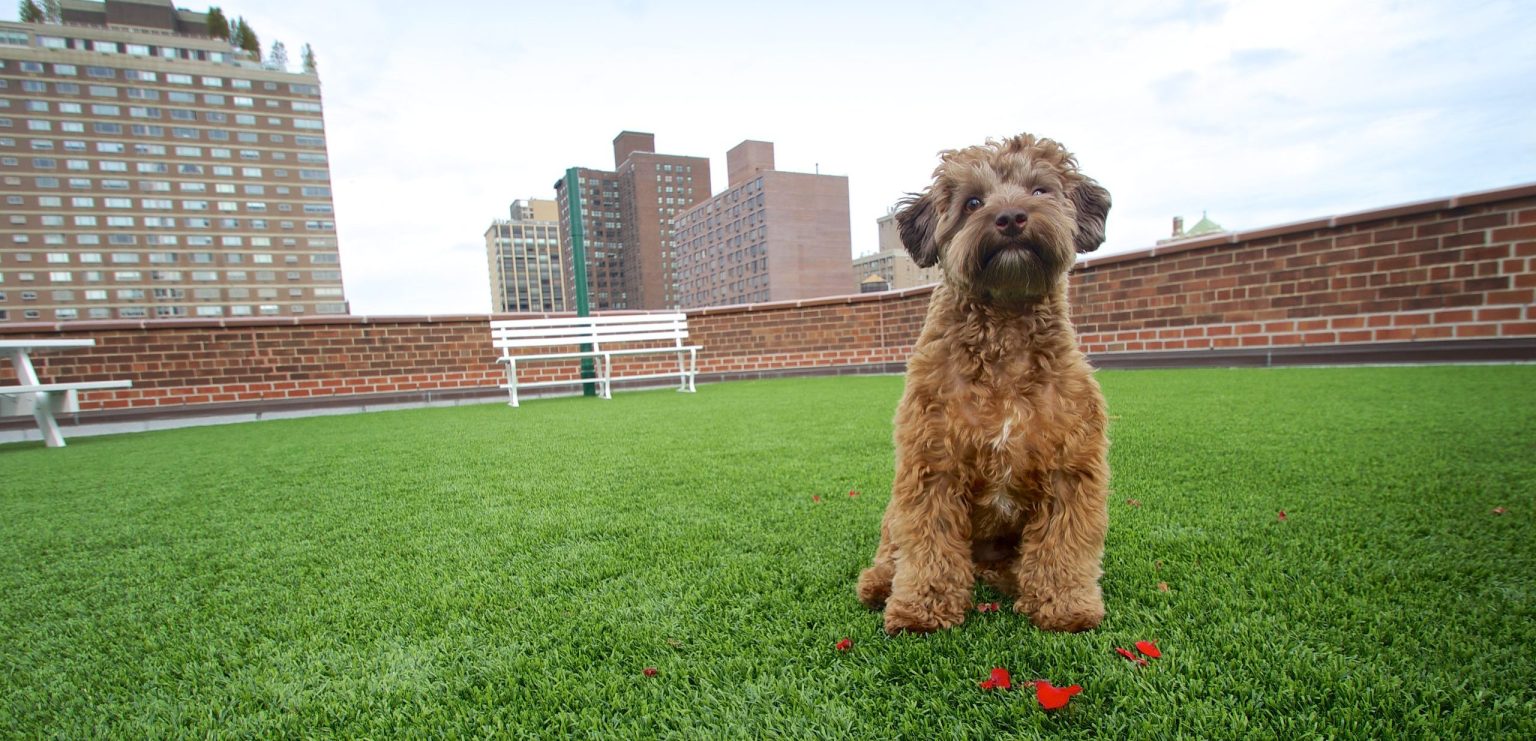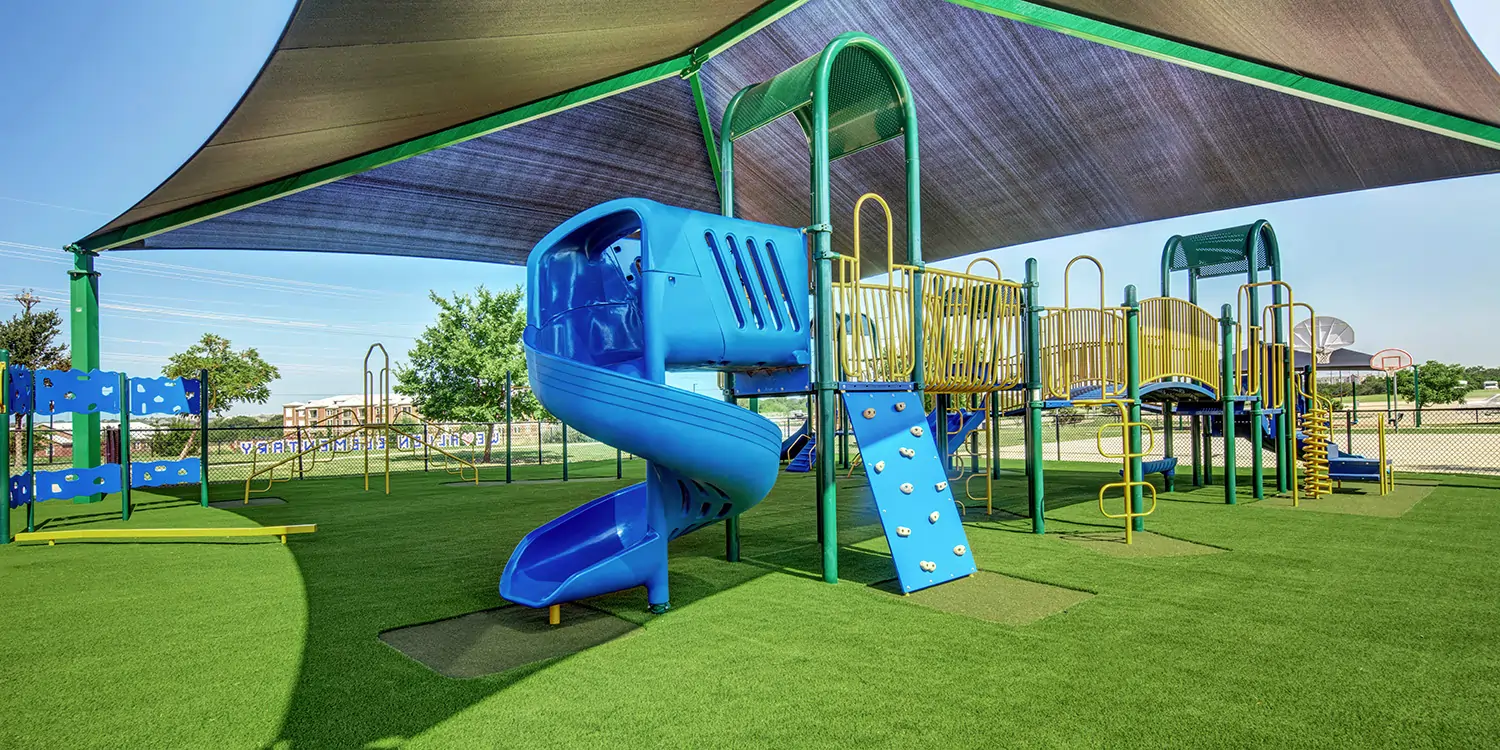 PLAYGROUND TURF INSTALLATIONS IN LA JOLLA, CA
Our top priority is to provide your children with a safe atmosphere in which they can have fun in their own way. SYNLawn® playground systems were created to comply with ADA and IPEMA guidelines. We retain our commitment to safety and quality by offering you slip-resistant surfaces that can protect children from falls of up to ten feet and have been treated with Sanitized® antimicrobial technology to prevent germs from spreading. Our La Jolla playground grass is also handicap accessible and among the most child-friendly in the business.
PATIO AND POOL DECK TURF INSTALLATION IN LA JOLLA, CA
Here and La Jolla, home and property owners are making the switch to artificial grass to outfit their unused patio, deck, and rooftop space. SYNLawn® San Diego artificial turf brings the many innovations and technologies that make us a leader in artificial turf to ensure that your living space maintains its lush and vibrant appearance all year long. Even during the hot months of the year, your landscape will provide you with a cool to the touch surface up to 20% cooler than the competitor's grass. HeatBlock™ technology prevents heat build-up from our surfaces, making them even safer for barefoot children and your pet's paws.
High durability in heavy foot traffic areas and tough weather conditions
Delustered finish enhances the realistic appearance of our patio, deck, and rooftop turf
UV protection used to prevent fade and maintain turf appearance
Increased living spaces by utilizing and enhancing unused areas
Super Yarn™ technology provides antimicrobial components by Sanitized® for cleanliness
Enhanced aesthetic and comfortability for entertainment areas, decks, patios, and more
Kid and pet-friendly landscape solutions perfect for playgrounds, play areas, and dog runs

LA JOLLA GREENERY WALLS BY VISTAFOLIA®
The captivating beauty of VistaFolia® artificial living walls in La Jolla can be included in every indoor and outdoor design scheme. Our La Jolla green walls provide the natural beauty and life-like behaviors of real plants in any environment. Additionally, vertical plant walls are the perfect way to increase privacy and sound insulation on the patio, by the pool, in your office, at your favorite bar, and more. Our plant panels fit together seamlessly to further their natural appearance and do not require regular maintenance. No trimming, no pruning, and no messy irrigation. Natural beauty all year long, without any downsides.
Quick and easy installation
Indoor and outdoor designs
8 varieties of bright colors and lush textures to choose from
Lightweight panels designed to allow free movement of air
Unmatched realism: exact colors, shadings, and dimensions
UV-protection to minimize fading of outdoor installations
Customizable arrangements with a range of color boxes
Manufactured to ISO 9001 quality standards