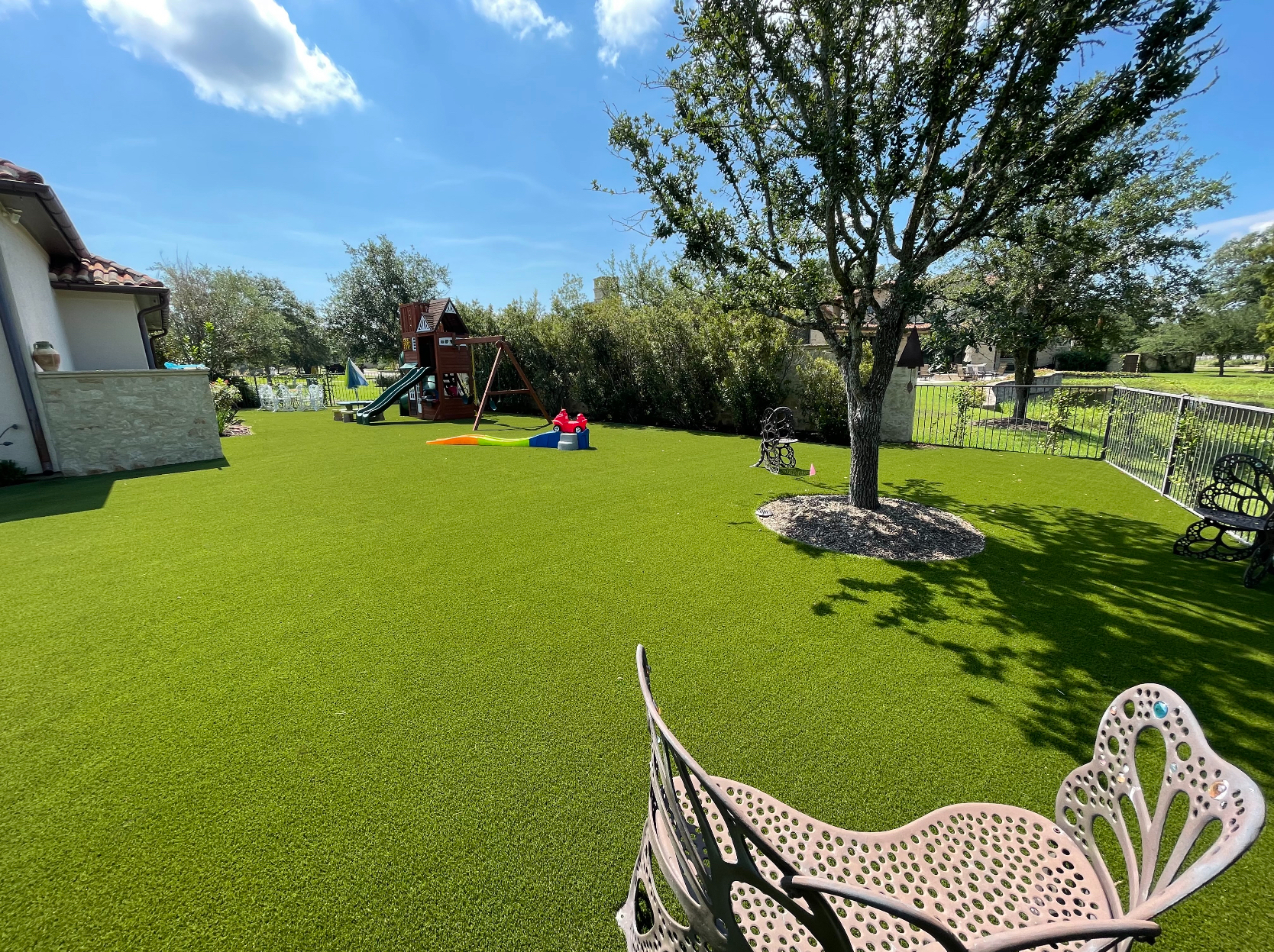 An artificial grass installation in Chula Vista, CA, can solve many major headaches associated with rising drought restrictions and everyday lawn care obstacles. With a higher quality and more realistic synthetic grass from SYNLawn, your artificial lawn will save time and money on lawn maintenance while staying beautiful and enjoyable for years to come. No more mowing, watering, reseeding, filling lawn holes, or struggling with dead grass and dirt patches.
Each SYNLawn synthetic turf installation in San Diego helps conserve thousands of gallons of water, reduces carbon emissions, and provides landscapes with a longer lasting and recyclable lawn solution. Chula Vista artificial grass from SYNLawn provides the best lawn experience above all other grass alternatives thanks to over 50 years of research and development towards manufacturing state-of-the-art synthetic turf technologies. Commercial properties choose SYNLawn because our turf is the most realistic, most durable under heavy foot traffic, and helps commercial green builders and specifiers earn LEED® points through water conservation and use of renewable and recyclable materials.
We work closely with US soy and sugar cane farmers to locally source renewable, plant-based materials that benefit our environment and allow our turf to be recycled. We quality control our entire manufacturing process in our Dalton, Georgia-based manufacturing facility to meet environmental standards as well as ensure a consistently high product quality at every stage of development. As a result, SYNLawn is the first and only provider of USDA-certified artificial grass that contains between 60-80% bio-based contents within the composition of our artificial turf.
Benefits of Chula Vista Artificial Turf From SYNLawn Includes:
Provides an ultra-realistic alternative to natural grass
Easy maintenance
Environmentally safe, made with recyclable components in the USA
Made with a plant-based backing system called EnviroLoc™
Super Yarn™ technology combines antimicrobial by Sanitized®, DualChill™, and StatBlock™ technology to create the most advanced turf yarn formula on the market
Delustered, UV-protected, and weather resistant turf fibers for long-lasting durability
Odor-controlling infill can be used to reduce up to 80% of odors caused by ammonia in pet waste
Fire safe and tested
Hypoallergenic
SYNLawn synthetic grass in Chula Vista is also backed by an unmatched limited lifetime warranty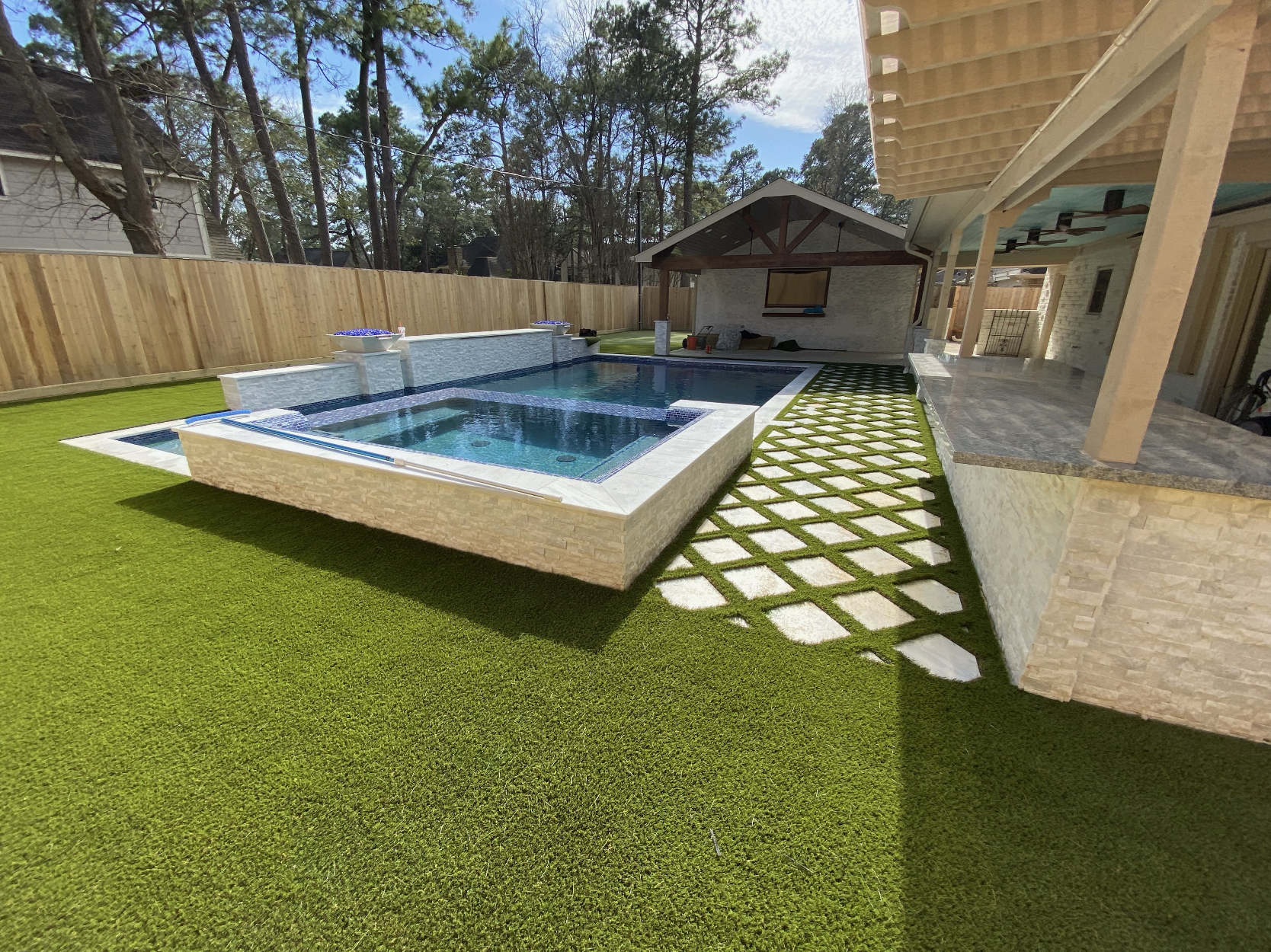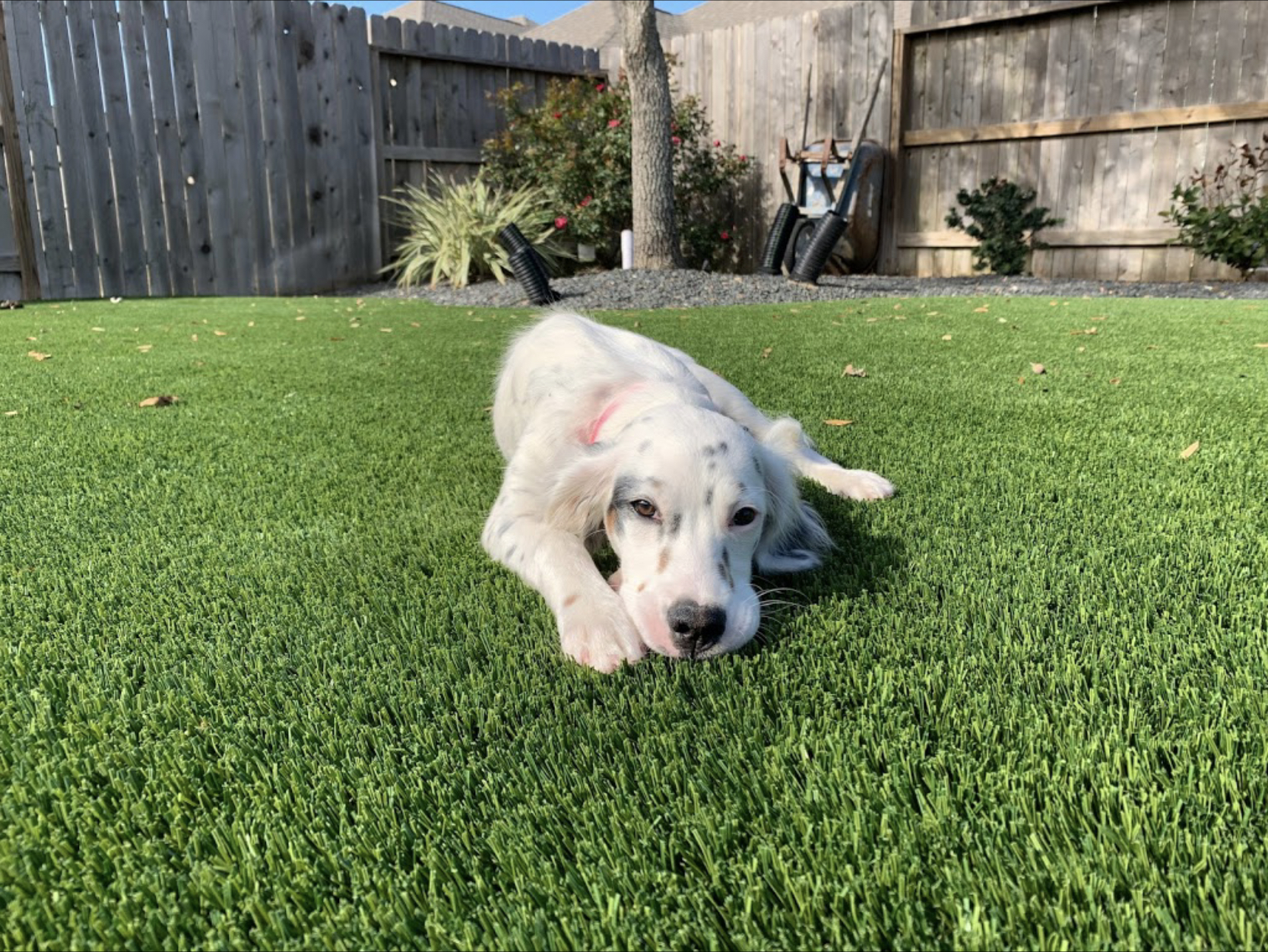 Chula Vista Pet Grass
Homeowners and commercial dog park owners know the time and expenditure it takes to repair holes dug by our furry friends. However, SYNLawn pet turf in Chula Vista offers superior durability and safety for your pets, thanks to the exclusive EnviroLoc backing system and Super Yarn technology. Super Yarn features an effective antimicrobial by Sanitized® that eliminates stain and odor-causing bacteria as well as prevent fleas, ticks, and other pests from finding a home in your lawn. EnviroLoc locks in turf fibers to prevent shedding and tearing and offers superior drainage capabilities to keep surfaces usable after water exposure.
Odor control through the incorporation of pet-friendly infill
Stain-resistant and easy to clean
Optimal drainage at a rate of 90 inches per hour
Added security upgrades for destructive pets
Cooler surface temperatures thanks to our thermal shield
DualChill™
Anti-bacterial enhanced turf fibers
Chula Vista Playground Surface
To ensure the safety of every child on the playground, Chula Vista playground turf surfaces are ADA compliant, and ASTM and IPEMA certified. Our Chula Vista playground flooring options are wheelchair accessible, will not shift on impact, provide superior injury prevention capabilities, cleaner playground surfaces and more.
In addition, SYNLawn playground grass is designed to cushion falls of up to ten feet and will not fade throughout the year, even under direct sunlight. Our thermal shield technologies provide cooler surface temperatures and enhance the integrity of turf fibers for longer lasting playground installations.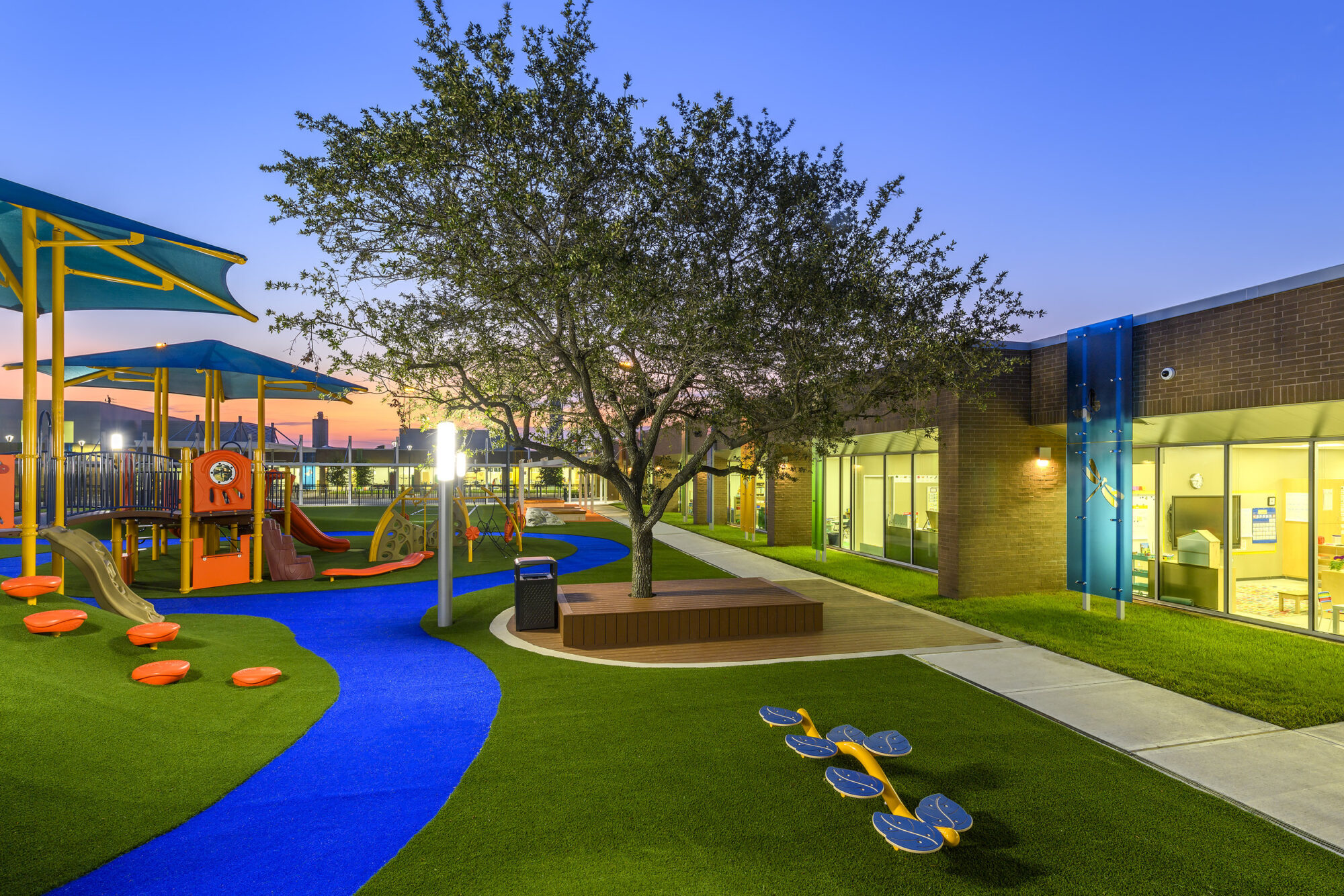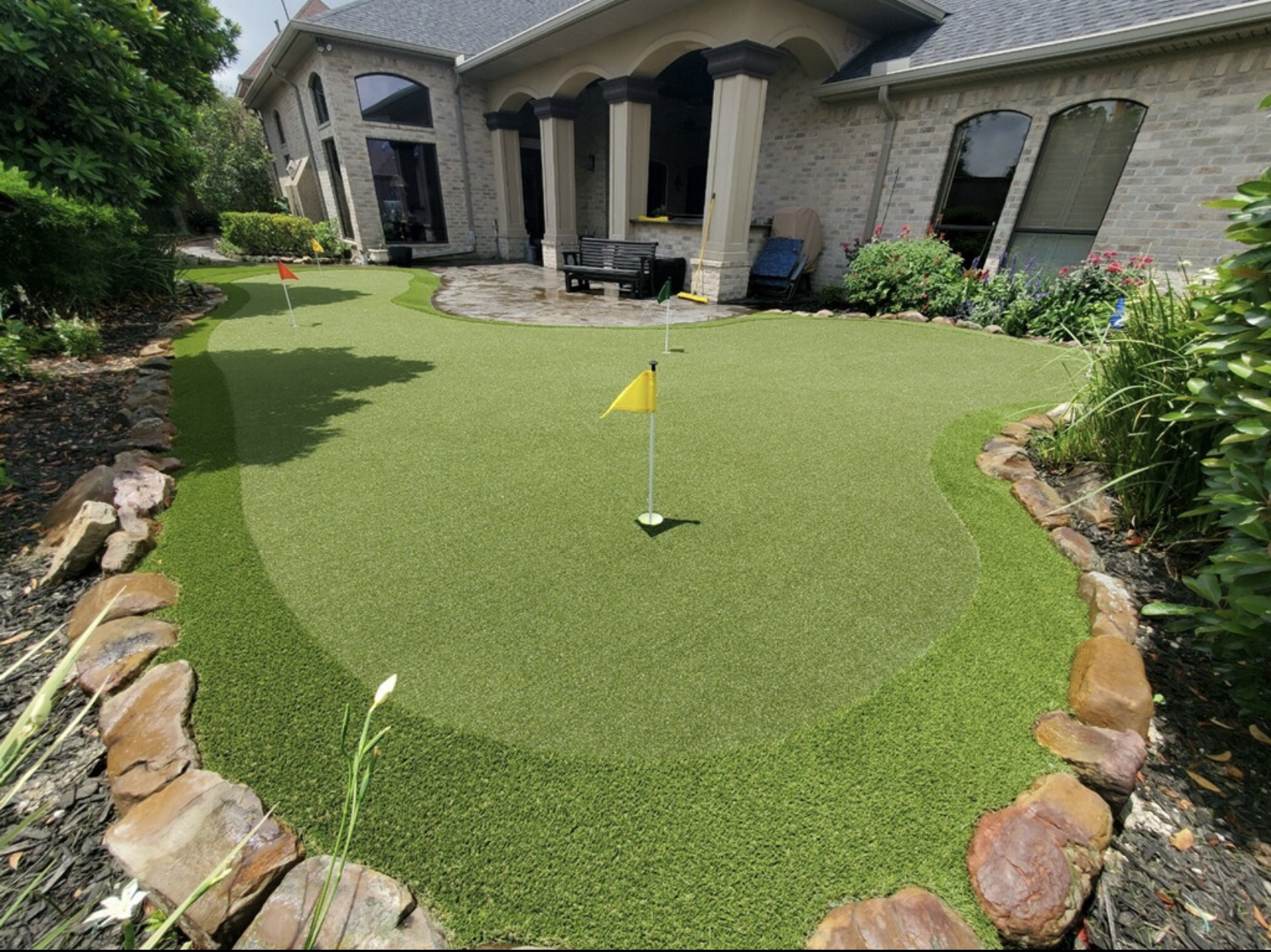 Custom Putting Green Installation in Chula Vista, CA
SYNLawn offers awe-inspiring putting greens that can be fully customized to any interior or landscape design. SYNLawn's Chula Vista putting greens are engineered to provide the highest performance with a very realistic and consistent ball roll, bounce, and slow down characteristics. They can be customized with a variety of rough, fringe, and fairway surfaces, sand traps, LED cup lights, and other amenities to accommodate golfers of all ages and skill levels.
We also supply a portable model that can be easily transported and carried to give you convenient access to an authentic performing putting green. SYNLawn golf greens in Chula Vista provide you with the perfect place to improve your short game so you can ear lower scores on the golf course!
Artificial Living Wall Installers in Chula Vista, CA
With artificial green walls from VistaFolia, every living space in Chula Vista can be enhanced with lush and vibrant synthetic foliage. These beautiful vertical gardens imitate the behaviors and appearances of natural plants without requiring any upkeep. No watering, pruning, or trimming is ever needed. These artificial plant panels have been subjected to fire testing to assure their safety, and are UV stabilized to prevent fading even in the harshest sunlight. Ideal for landscape and interior designers looking to add greenery to environments where real plants are unable to grow naturally, or areas subjected to strict water usage restrictions.
Quick and easy installation
Perfect for indoor and outdoor designs
Customize the foliage panels with 8 varieties of bright colors and lush textures
Lightweight panels designed to allow free movement of air
Unmatched realism: exact colors, shadings, and dimensions
UV protection to prevent fading of outdoor installations
Easily modifiable panel system to accommodate complex design ideas
Manufactured to ISO 9001 quality standards