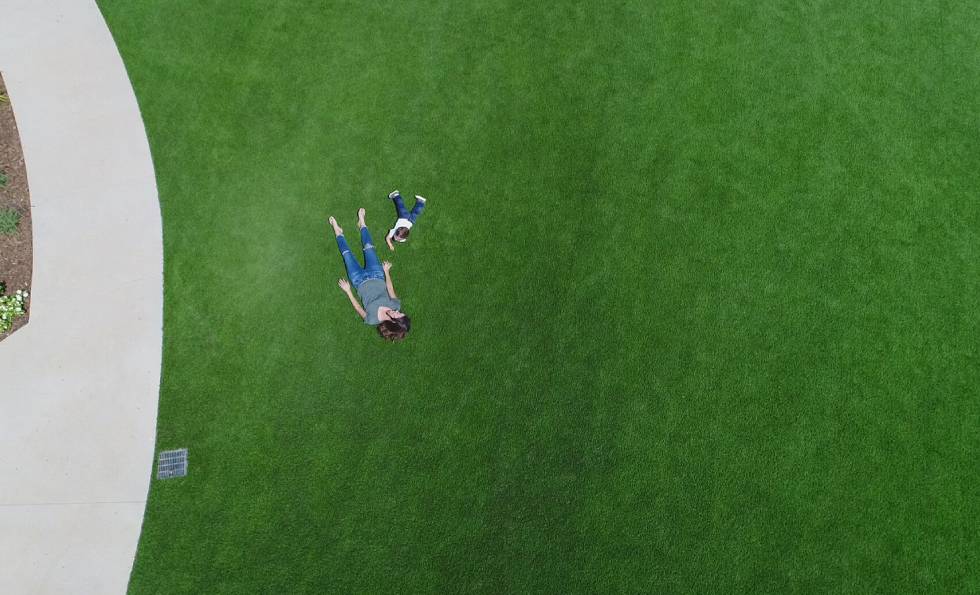 Sheraton Carlsbad Resort At legoland
Products Used: SYNTipede 343
Square Footage: 19000 sq ft.
SYNLAWN®
The Sheraton Carlsbad Resort at Legoland features almost six thousand square feet of SYNPro 65. This stunning turf solution brings premium quality at an economical price. SYNLawn® San Diego was chosen for this project because of our unrivaled limited lifetime warranty, and unmatched realism, durability, and technological enhancements. SYNPro 65 features both our exclusive HeatBlock™ technology and EnviroLoc™ backing system in its design. These technologies work together to further the life span of our incredibly sustainable products. In addition, UV stabilized turf yarns work to prevent fading colors, keeping your artificial grass looking as beautiful as the day it was installed. SYNPro 65 boasts a 65-ounce face weight along with the many alluring features of our premium artificial turf for an affordable price. SYNLawn® has established itself as the industry leader in the artificial grass industry because of these proprietary technologies not found in any other turf on the market.
SYNPRO 65
Within SYNPro 65, is our HeatBlock™ technology. HeatBlock™ reduces rising temperatures by reflecting sunlight, therefore decreasing heat accumulation and thermal emissivity. This technology utilizes infrared reflecting pigments to aid in heat dissipation. HeatBlock™ is scientifically proven to provide up to 20% cooler surface temperatures than comparable artificial grass products. SYNPro 65 with HeatBlock™ technology provides families with kids and pets, the ideal outdoor landscape solution. No more unbearably hot surfaces during the hot San Diego summers that burn feet or paws. Instead, you can enjoy your lush and maintenance-free lawn all year long, regardless of the season.
Also, within SYNPro 65 is our eco-friendly EnviroLoc™ backing system. EviroLoc™ uses a 2-part woven polypropylene backing fabric that locks in turf fibers to prevent shedding. Made primarily from soy-bean oil, this exclusive technology is far more sustainable than any other turf backing on the market. It is recyclable, incredibly flexible, resilient, and very porous, allowing the soil beneath it to continue to receive its vital nutrients. EnviroLoc™ is designed to prevent from being torn or dug through. No more holes dug in the lawn by pets or other critters. To protect your investment further, we do offer a reliable gopher mesh that can be placed beneath your San Diego artificial grass installation.
ENVIRONMENTALLY FRIENDLY
SYNLawn® manufactures the most realistic artificial grass San Diego has ever known. Our extensive catalog offers products that provide a strong resilience to heavy foot traffic, high-performance for intense athletics, and the highest quality turf for long lasting luxury and enjoyment. Commercial property owners are generally very occupied, working to maximize their time towards growing and operating their business. SYNLawn® San Diego artificial grass requires almost zero maintenance and will save you money on equipment and water bills for years to come.
In addition, our commitment to sustainability has allowed for the creation of the industry's first plant-based synthetic grass made primarily of sugar cane and soybean oil. We work in partnership with US soybean farmers to replace large amounts of petroleum materials with biobased components that are renewable and recyclable. By creating artificial turf that is environmentally sustainable, customers can now conserve thousands of gallons of water annually, substantially cut down their carbon footprint, and lessen the impact on local landfills. All by switching to an environmentally friendly synthetic turf from SYNLawn®.
SYNLawn® San Diego artificial turf is the most eco-friendly, technologically advanced, and most realistic available today. We strive to be the leader in artificial grass manufacturing and distribution by ensuring that our products meet your exact needs. Our in-house design team will assist you with the perfect layout for your residential or commercial artificial lawn, and our expert installation crew will get the job done with precision. You can count on us to get the job done right every time. For more information on our San Diego synthetic turf installation services, contact us today to schedule a free consultation!