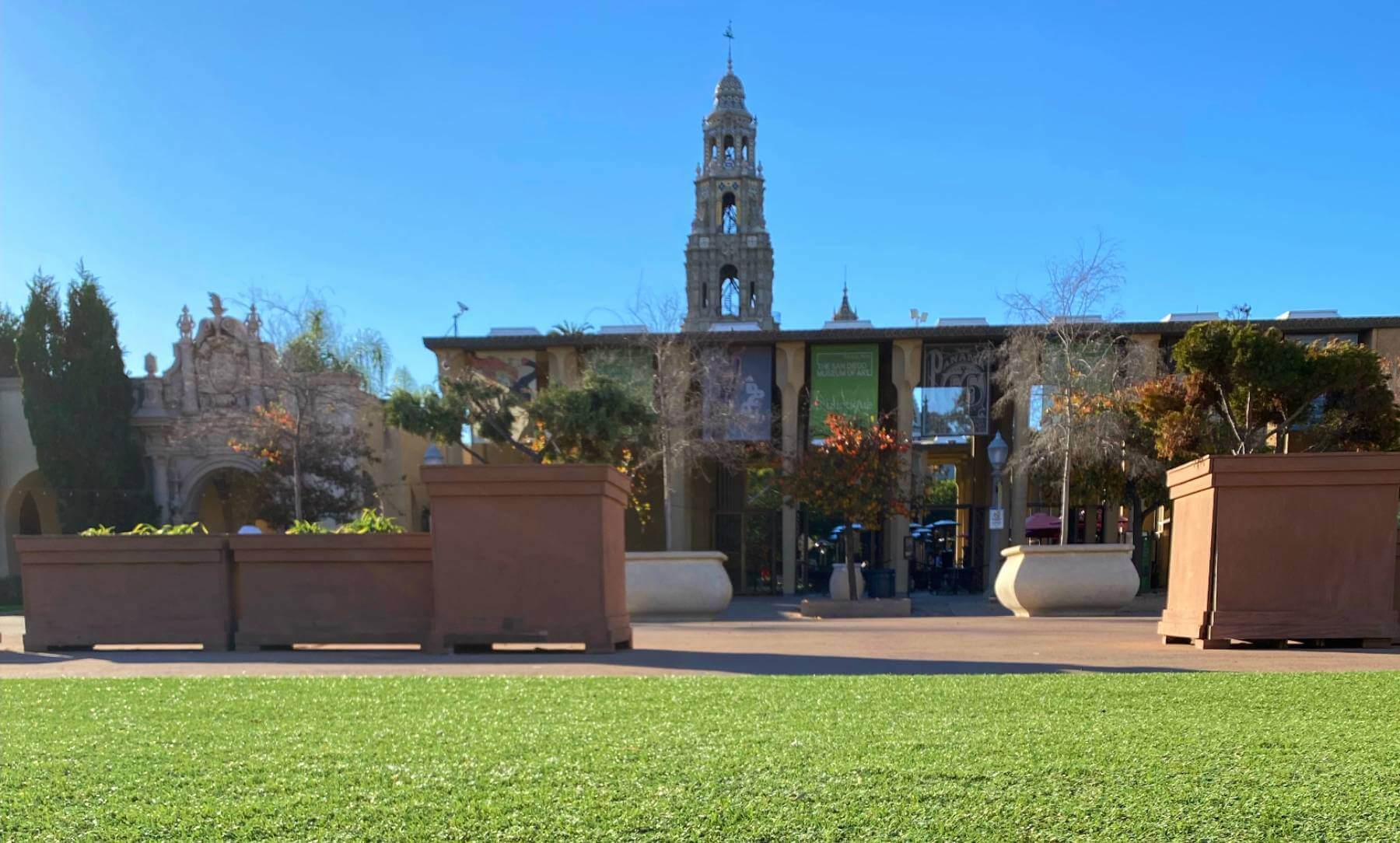 Balboa Park
Products Used: SYNTipede 343 & SYNAugustine X47
Square Footage: 3800 sq ft.
Balboa Park in San Diego, California, is a 1,200-acre historic urban cultural park. It comprises of museums, multiple theaters, and the San Diego Zoo, in addition to open space areas, natural vegetation zones, green belts, gardens, and numerous walking trails. We had the pleasure of outfitting four major areas in the park with our plant-based San Diego artificial grass.
For this project, we utilized both SYNTipede 343 and SYNAugustine X47 for two areas of the San Diego Zoo, Plaza De Panama, and the wedding lawn area behind the Prado restaurant. These two synthetic grass options have what it takes to stand up to the massive amount of foot traffic that these areas endure each year. The dense thatch of these products is combined with polyethylene grass blades for excellent resiliency and support.
Area 1: The Breezeway between the San Diego Zoo and the Natural History Museum – Approx. 1,000 sq. ft. of SYNTipede 343
Area 2: Plaza de Panama – 500 sq. ft. of SYNTipede 343 is used for a portable artificial lawn installation that sits above foam panels for easy assembly
Area 3: Wedding Lawn behind the Prado Restaurant – Approx. 300 sq. ft. of SYNAugustine X47
Area 4: San Diego Zoo Parking Lot & Bus Drop Off Area: Approx. 2,000 sq. ft. of SYNTipede 343
As a result of its exceptional performance, durability, and natural appearance, SYNTipede 343 is at the forefront of artificial grass technology. This long-lasting, San Diego synthetic grass has a medium pile height and is extremely tough, making it a perfect choice for high-traffic areas that require the appearance of natural grass.
SYNAugustine X47 is one of the most realistic and technologically advanced artificial grass improvements ever designed, with less gloss and a 100 oz face weight. It features soft and dense multi-colored grass blades in delustered olive, apple, and field green, blended with thick beige thatch to create a gorgeous, hyper-realistic synthetic turf. Additionally, we are proud to highlight both of these synthetic grass options for their USDA certification. SYNLawn® is the first company to offer a large catalog of products that contain more than 60% bio-based content.
Both of these incredible products include several of our exclusive benefits such as little-to-no maintenance requirements and proprietary turf technologies. SYNLawn® has set an exceptionally high standard for its products with the inclusion of proprietary technologies and features including Super Yarn™ technology and our EnviroLoc™ backing system.
Super Yarn™ is the culmination of more than 50 years of research and development. This first of its kind fifth generation was the first in fact to be presented to the artificial turf market. It is the combination of three bound components at the molecular level. Sanitized® antimicrobial destroys 99% of germs, pet stains and odors, while also preventing the growth of new bacteria. DualChill™ IR reflecting technology acts as a heat barrier, preventing infrared light from fading and increasing surface life. To minimize static charge accumulation, StatBlock™ carbon-based anti-static is bound to face fibers.
The EnviroLoc™ backing system from SYNLawn® is a multi-layered component system that functions as a security mechanism, ensuring long-lasting grass fibers and extending the life of the product. This environmentally friendly component is manufactured in partnership with local soy farmers by replacing the majority of petroleum from the backing with renewable soybean oil. In addition, EnviroLoc™ has excellent drainage allowing our artificial grass to be utilized practically immediately after contact with water or spills.
Every year Balboa Park is visited by an incredible amount of people on a daily basis. Their concern for safety ranks as high as our unrivaled standards for safety. Thankfully, our San Diego artificial turf complies with ADA and IPEMA standards, ensuring long-term safety. SYNLawn® synthetic grass does not shift on impact, making it wheelchair-friendly. SYNLawn® guarantees that fall heights meet precise guidelines, ensuring the safety of all guests of all ages. Our synthetic turf provides a clean, safe, and long-lasting surface. In addition to IPEMA certification, both SYNAugustine X47 and SYNTipede 343 offer increased fire safety with their ASTM E108 Class A Fire Rating. This provides first responders with significantly more time to arrive and extinguish fires as well as reduce the risk of extreme injuries and property damage.
Customers across Southern California are making the switch to SYNLawn® San Diego artificial grass installation for their commercial applications. Commercial landscapes benefit from the time and money saved each year on water bills and lawn maintenance, along with the ecological benefits from our recyclable materials, and the gorgeous year-round appearance. SYNLawn® artificial turf is perfect for lawns, landscapes, roofs, patios, decks, pool sides, San Diego putting greens, and so much more.
For more information on our San Diego artificial turf installation services and products, contact us today to schedule FREE consultation!